Ho ho ho… goodie.  Christmas is already back.  If you're stuck for gift ideas for your dad, or any other man in your life for that matter, you're not alone.  Men tend to be a challenge for holiday gift-giving because they seem to either have everything, or, in the case of my pops, they never give you ideas about anything they'd like.
I decided to search a few "Gifts for Him" pages to get an idea of what I can gift ol' Dad this Christmas.  Here are 5 gifts I wish my dad would want.
Most dads aren't like my dad, so you may actually have some luck using these ideas.
1. Cast iron moose bookend – Chapters $34.50
I know my dad won't like this gift because I love it, and because he neither 1) enjoys reading or 2) has books on a shelf in general.
It's cast-iron and would make a good paperweight as well, but since I made him one of those out of a heavy rock in pre-school, he'd find no use for this.
2. Fire starter – Amazon.ca $16.97
My dad goes fishing a lot, and he his boat has run out of gas once or twice that I know of.  I feel like if (if!) he put one in his tackle box, a fire starter just might save his life one day, or at least keep him alive through the first couple of nights.  Might need to put a Wilson ball on the Christmas list too.
He might like this fire starter, actually.  I will keep it in mind.
3. 1-Gallon small-batch beer brewing starter kit – Toronto Brewing $59.99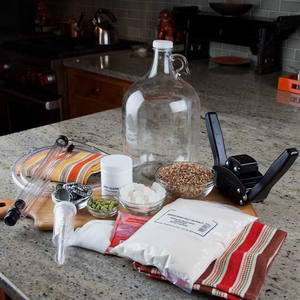 A lot of guys would love making their own beer at home.  This brewing starter kit gives a dad everything he needs to make his first small batch in a couple of short weeks.  (Note to buyer: Supply also some bottles, not included.)
My dad would love this, if only he were a beer-drinker.
4. Magic Wand programmable TV remote – ThinkGeek $89.99
This one's a doozie.  If my dad doesn't like this one, well, I don't know where his whimsy's at.  Who wouldn't want to change the channel or tune out their noisy family with a magic wand?
It learns from his old remote and then he gets to look like a weird wizard using it in front of people or, even better, when he's alone.
5. Pocket microscope – ThinkGeek $12.99
He can look at anything at 60-100x magnification with this pocket microscope. What's not to love? This Christmas, show Dad how gross things are at a microscopic level. This may be a winner after all.
So that's it. Five Christmas gifts I wish my dad wanted. What about your dad?  Do you know what he'd like yet?