A week ago, I realized we hadn't watched Up All Night since (I think) January, which could be seen in either a good or a bad light, given my thoughts on the current season. (Summary: Mostly good cast, but premise has strayed quite a bit from its original intent, which might be fine if not for the show's name.)
After some research, I came up with why it's been gone a while, though not officially cancelled (yet).
While Up All Night wasn't the greatest show in its entirety and its name never really worked, there was potential the first year to become a hit sitcom. This year part way through the season, NBC made the decision they were going to turn it into a multi-camera format with a live audience, something that typically doesn't sit well with … uh … how do I say this … non-Big Bang Theory fans. These days, I mean. I could list a tonne of great shows from the '90s it worked well with, Seinfeld among them.
Yep, switching formats in the middle of the second season of a show generally cleverer than many other sitcoms on its network. Maybe Jack Donaghy is running NBC (into the ground on purpose) after all.
It didn't seem like a great idea, so maybe that's why Christina Applegate, one of two main characters, as well as Up All Night's creator, Emily Spivey, quit the show.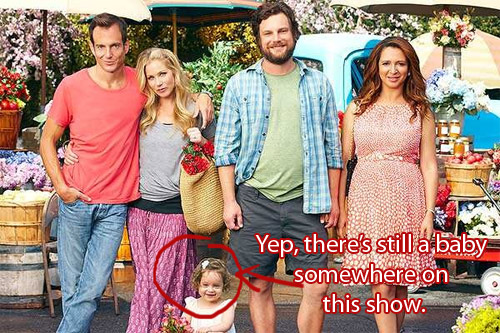 There have been weird things said, like now that Maya Rudolph is pregnant a fourth time, the show will shift focus to her character's life with a baby (ugh). Or maybe Phoebe from Friends will take over where Christina Applegate left off. Yeah! That'll be great! Gees, NBC. Will Arnett is filming a pilot now and Arrested Development is coming back soon, so no skin off his back, although this remains confusing as he's contracted to do a few more episodes with Up All Night.
Weird business. Here's an article that will provide more information on who quit the show and other junk they were considering to 'fix' the moderately-rated show.
Did you ever watch this show? Did you find it as odd as I did that the baby was seen maybe once a show and referred to probably twice, despite its baby-themed title?