I've been hanging out a lot in the garden since we got home from our honeymoon.
At first it wasn't by choice. Apparently when it rains for a week straight, you come home to a lot of weeding. (Amazingly, though we stayed within the province, none of that rain actually hit us til the last day of our trip.) As I pulled all the junk out of that garden, I realized digging around in dirt is one of my favourite things now. I'm old.
The past two years, we planted veggies (and honeydew and tomatoes). The first year was pretty decent, but last year was not so great. People all over town were griping about their rot-bottomed tomatoes and we had the same issue. Apparently it's a calcium distribution thing. After eating so little of what came out of our garden compared to the year before, we decided our soil was better for bushes and trees. So we halved the garden and kept a little extra to make an L-shape. We haven't quite gotten around to filling the area that used to be our garden, so I've 'shopped some grass into this picture for you.
The edibles we have planted are herbs: Basil, Red Rubin basil, parsley, rosemary, Mojito mint and chocolate mint. Miklos hung a few of these little planter guys on the shed, which is great for keeping the dogs from eating them (something that happened to the old rosemary upon Junior's arrival — rosemary did survive most of the winter before that, though).
The birds are loving our feeder so much that they knocked it down yesterday. I've since moved it. They've really beaten the thing up, as it was bright and new last year, but now has chips out of it. I guess it serves its purpose. It impresses me that the birds aren't bothered by us or the dogs walking around while they're eating. Gluttonous birds.
We have a couple of flowering plants which haven't quite flowered yet, but these pansies keep the entrance to our yard smelling soft and nice.
I've been recycling a lot of our wedding decor into our garden. There were still some flowers left after our honeymoon, so I put some in the mason jar and birch vases that we made for the occasion on our table. It dresses the place up a bit.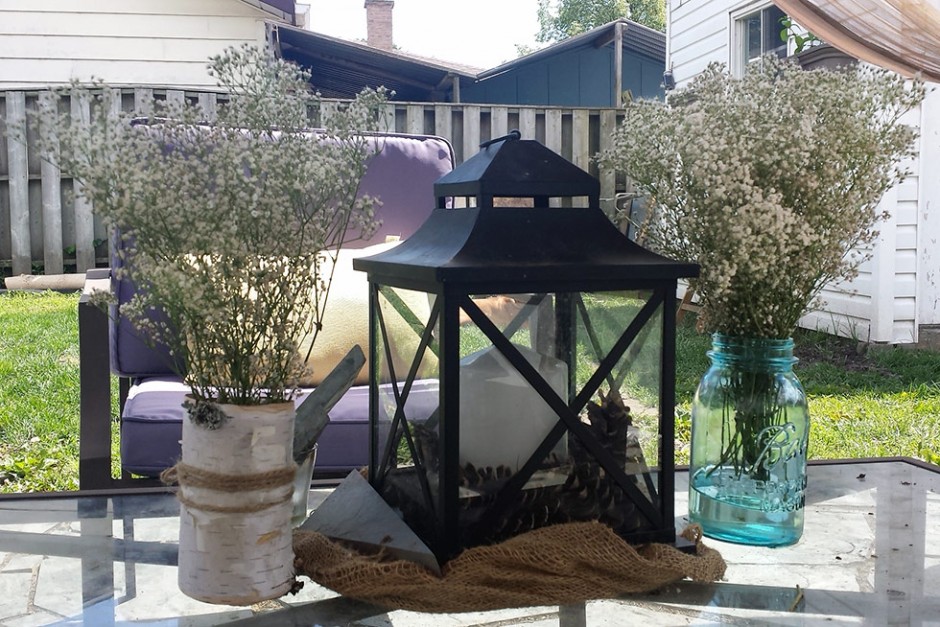 Speaking of our wedding, here is one of the bunch of cedars we had for favours. It's doing well. The other ones need a bit more attention before they're this green, but I'm optimistic.
And that's my garden entry for today.
How's your garden doing, anyway? What did you plant this year?