It only took about four smaller dents and one giant ding on the side of of my phone — as well as the two swims in the toilet I'm forever mentioning — for me to decide to invest in some kind of cellular phone protection contraption.
Unwilling to spend good money, as usual, I scoured the WWW for the best deal on an Otterbox. And I found a pretty great one!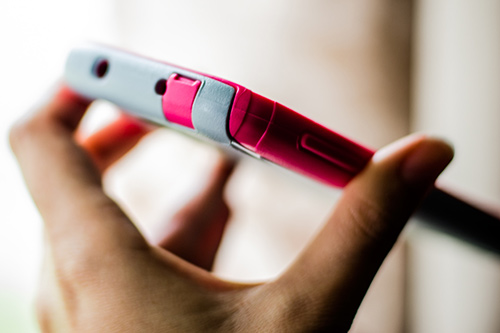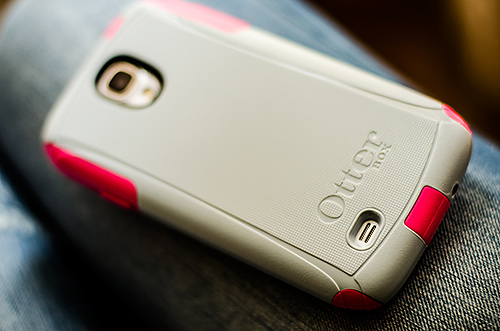 Now, this design is not waterproof like the Armor Series (which I'm not sure they have for S4 yet), but I didn't want that kind of bulk and I don't think I needed it anyway.
Why? It plugs the charger and the headphone jacks.
UPDATE: Feb 4 2015: They don't have the Armor Series anymore, but if you do need waterproof protection, Otterbox now has the Preserver which — as is often the 'case' — is a bit cheaper on Amazon!
In my experience, I've learned that water doesn't really penetrate the Samsung Galaxy S4 unless it finds the headphone jack. Why do I know this? The first time, water didn't get inside somehow. I grabbed it out of the water a lot faster that time too. After the second incident, it flashed on and said something about the headphone jack being connected… connected to water I guess? Took a lot longer stay in white rice and some hair dryer action to fix my poor phone after that.
As for the rest of the design, the thickness is something to get used to, but I'm happy knowing it's protected. The buttons are a bit stiff but I'm sure they'll be worked in in no time. And I like the colour(s) I picked out, so there's that too.
Do you have an OtterBox? Has it saved your phone a few times? Do you use the screen protector (that for now I've decided to forego)? Let me know!
Share the post "OtterBox for S4 — Now I can drop my phone all the time, EVEN MORE!"