Things are — very gradually — getting festive in the Comma House. Christmas, as you might have heard, is expensive. I'd rather do something myself than spend $60 on a decoration we'll have up for a month or two, tops.
Therefore, this weekend's super quick and happy project was…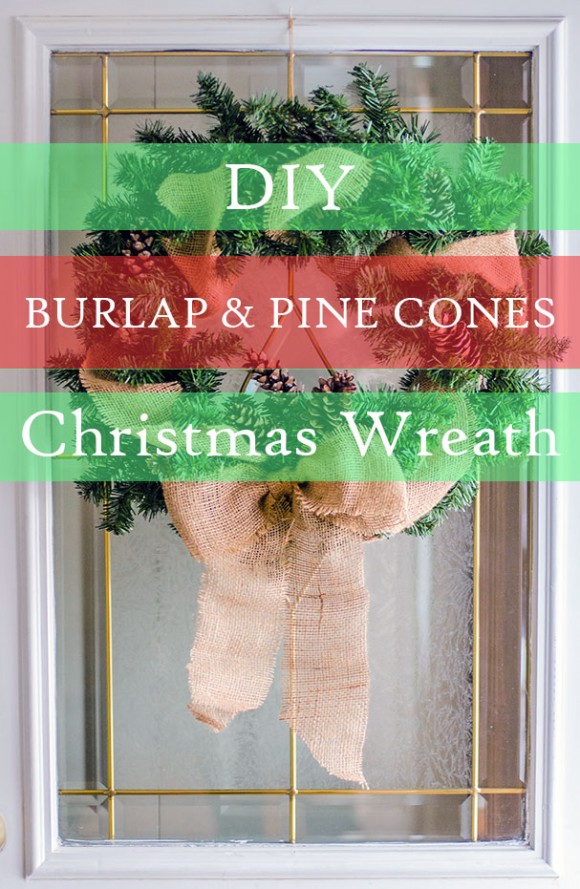 Materials:
1 plain, cheap wreath with no adornments from Michaels  — $9.99 + 50% off = $4.99 for 11″ diameter
All purpose burlap — we used a 12 foot length but you can use more/less
Pine cones, real or fake
Floral wire helps but you can use string/twine
I was going to do a shot-by-shot tutorial but by the time I found my burlap, Miklos had already started, and it was looking good.
How we did it:
He put the pine cones we have lying around from up north into the wreath. (I estimate this to have taken him 2 minutes or less.) The pine needle garland in the wreath just bends around the pine cones, as your Christmas tree or other garland would.
I pulled one string out of a 12 foot length of burlap (great example here), giving it a width of about 4 inches, give or take. Pulling a string out makes a gap in the burlap which provides a nice straight line for you to cut across.
Once my length was cut straight across, I chopped off around 4 feet of the length to make my bow separately. I used this burlap bow-making tutorial. It took me a few minutes, but I was sick. Gimme a break.
Before placing the bow, I wrapped the rest of the burlap into the wreath. There's no rhyme or reason to this part. You'll find a pattern you like the look of as you go. I like to slightly twist the burlap before I bury each section but not too much.
Place your bow where it looks best. I used floral wire for this.
And there you have it!
I might add some gold berry sticks into it once we dig out our Christmas decorations (which, uh, should probably happen soon… that and shopping). If you're a fancy pants, you might want to add ribbon to your bow. I like the simple things in life, so I decided not to dig out the ribbon we have somewhere.
Hope this tutorial helped, even if I missed my window for step-by-step pictures!
Link me to your latest DIY in the comments!