You know those people who say they don't want gifts but really you're smart enough know everyone wants a gift? This is one for those people.
These homemade scrubs are great for guys or girls — think: a gritty scrub to keep in the garage for a quick handwash under the hose.
The facial scrub is made of all natural ingredients, and the hand scrub is the easiest thing in the world to make.
Both are extremely effective, though for my skin type (which is oilier) I would use the facial scrub to exfoliate and moisturize, then cleanse as usual after. You can make a tag in Word with quick instructions on it as I have after you're done making and testing the scrub. I used cardboard, craft paper, laser printer, a paper cutter and craft glue to make my tags.
NOTE: If you or the person to whom you're gifting this scrub will be using either scrub in the shower, use a plastic jar instead. I couldn't find any cute plastic ones, so good ol' standard-sized mason jars it was. These will have to be bathroom counter items.
The writing on the jars may look a bit suspect. To avoid giving away who this gift is for, I had to brush out some of the text I put on the jars.
Let's talk about how to get the writing to stay on the jars. (If plastic, skip the oven part obviously.)
Materials:
Mason jar
Rubbing alcohol
Paper towel or cotton balls
Sharpie paint pen
Oven
Instructions:
Use rubbing alcohol on a cotton ball or paper towel to scrub away any remaining label stickiness. Wash the jar thoroughly with dishsoap and allow to dry.
Using a Sharpie paint pen (after practicing your idea) write your new "label" or brand name onto the jar. Let paint dry for at least 4 hours.
Put the glass jar (no plastic and no lids, please!) in a cold oven, then set the oven to 375°F / 190°C. The glass will heat up gradually, not shatter (bonus!) and bake the paint onto your jar so that it lasts longer when it's washed again.
Set a timer for 45 minutes. After 45 minutes, turn it off but allow jar to cool within the oven. This can take hours, but don't pull it out before its time. You want the jar to cool gradually. When it's completely cool in the oven, you can remove your jar. Yay!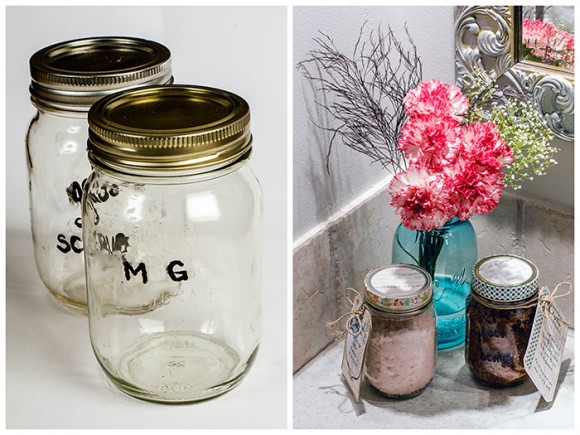 Now, to make the scrubs!
Honey Brown Sugar Facial Scrub Ingredients:
400 grams brown sugar ($1.00/400g bag — dollar store)
3 or 4 tbsp extra virgin olive oil
4 tbsp runnier/newer honey ($1.00/small plastic honey bear — dollar store)
1/4 tsp vanilla
a pinch of ground cinnamon for scent (optional)
Instructions:
Being cautious with the olive oil (you may decide to use less if you or the recipient of this scrub have oilier skin — start with less if you're concerned about this), mix all ingredients in a medium sized bowl until consistent.
Scoop up a bit on your fingers and test! If it feels good, you have added the right amount of oil. If you don't feel moisturized after, add a touch more oil and mix until consistent.
Use a tablespoon to scoop neatly into your jar and seal it tightly.
Decorate jar as you like, maybe adding some washi tape (printed masking tape) and/or tying on a directions label with twine like mine.
Sugar Hand Scrub Ingredients:
Enough refined white or raw sugar to fill your jar (400 grams in my case)
A bit of creamy body wash — try a masculine-scent if gifting to a man
Instructions:
Mix both ingredients in a bowl. You won't need much body wash. Try a tablespoon or two to start. Once consistent, test a bit of your new hand scrub to make sure it works as intended. You may want to add a little more body wash, but remember to keep it feeling nice and gritty. I think I used less than 2 tablespoons of an old Olay Body Butter body wash.
Use a tablespoon to scoop neatly into your jar and seal it tightly.
Decorate!
And that's it! Make one, make both, keep them, gift them! Do what you like! I'm not the boss of you!
Most of all, let me know what you think of these scrubs if you try them!