For years, my poor armpits have suffered. All of my skin is sensitive, but my underarms — whose smell begs to be tamed — get itchy and spotty from even natural deodorants from the health food store. I have not found 'clinical strength deodorant' (just antiperspirant), but I'd probably still rash out and itch as badly from it as with everything else.
After years of experimentation, I've found a formula that has worked amazingly for months to keep me stench-free without any negative side effects. And it doesn't contain aluminum, which is in nearly every underarm product these days.
You can also make it a totally natural product if you buy organic ingredients (I just used what I had for this tutorial).
And since most of us have these ingredients in our kitchen already, it's wonderfully affordable, plentiful, and lasts for months.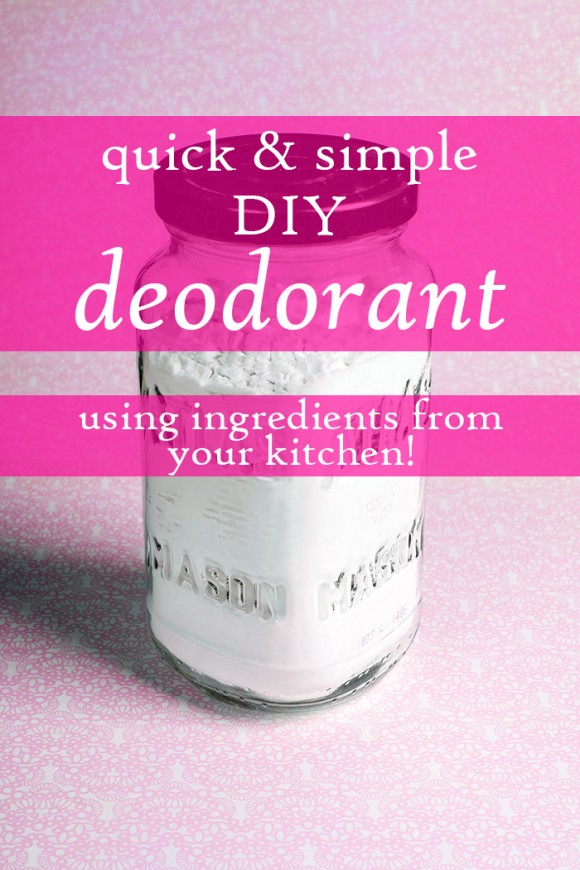 Materials used:
1 part cornstarch
1 part baking soda
1 washed and sanitized mason jar
Optional materials:
rubbing alcohol and paper towel to remove jar labels
measuring cups/spoons
funnel with larger hole
shaker lid for mason jar
How to make it:
First I gathered up my ingredients.
You can also pop some holes in the lid if you want, or if you can find a jar with a shaker lid, use that instead. I am much too clumsy to use a shaker lid, however, so I just dab my fingertips in and get a little to use.
Best part about this deodorant is that you don't smell. The cornstarch and baking soda deodorize and destroy bacteria, while lasting the full day. This is a big deal for me — the lasting part.
Second best: You can't even feel it because it's smooth, not sticky, but it keeps working all day so it's definitely there.
Third best: If you accidentally get it on your shirt, you can just brush it off with the back of your hand. No gooey-ness at all. (This has been a big problem for me in the past. I may have mentioned the clumsiness…)
Fourth best: It's SO cheap to make and 1 jar can last months!
Miklos says it's the best working deodorant I've tried. I agree completely. No rashing out, cheap as heck and — most of all — NO STINKING. And you can apply it as many times as you need throughout the day, though you probably won't actually need to.
If you've been looking for a better deodorant in every way, I hope this tutorial has helped!
Have you tried this DIY deodorant?  Let me know what you thought in the comments!
Share the post "DIY: Quick, Simple & Affordable Deodorant From Your Kitchen!"