… and boy are my arms tired!
Actually, the arms are the least tired of any of my body parts, but that's probably because Wii Fit planking is out of the cards when my belly now touches the ground.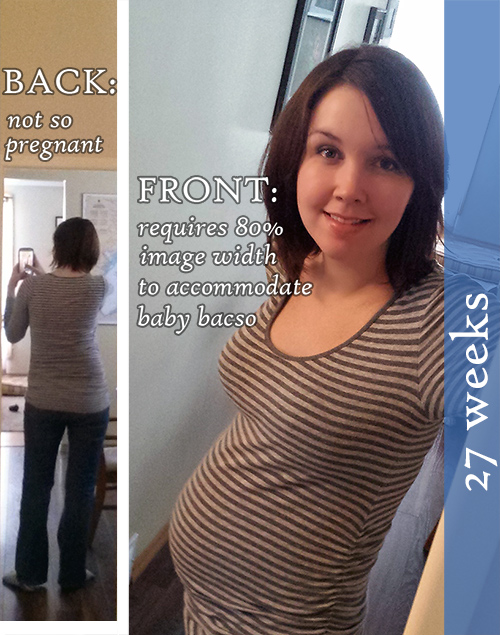 This quick phone composite gives me hope that at least my back view will remain sort of unpregnant-looking after Little Boy is born.
Pregnancy is weird and funny. Watching your belly move on its own is not unlike something from Aliens. You really want waffles in the morning, if you're me. Despite this, there are a lot of awful things that happen to your body parts to ensure you keep fibre in your diet. Sleeping slightly elevated on your left side is a must if you are overtaken by searing heartburn every night — in which case, you learn what bedsores must be like a little too early in life. You push yourself just as hard or harder to prove to the world you're not just a round, unbending ball of baby. You learn that — even though it is the most natural thing in the world — having a living person growing inside you is the least natural feeling there is. And for some reason, you're happy with all of it even if you never spent your whole life pining away for a child.
Go figure.
Three more months of monstrous growth until this guy makes his debut. Hopefully less-than-that months of shovelling snow.
I'll be updating more useful stuff soon… I mean it! Just felt the need for a journal update!
So, how's the weather where you are?