I've been all over smoothies lately. This stems mostly from the amount of heartburn and foot/leg cramps I'd been getting the past few weeks. I knew bananas had always helped for both things, but once I started taking in more fruit (and spinach) on a daily basis, there was a noticeable improvement.
I've been documenting these smoothies along the way, experimenting a little here and there and seeing what I like. It turns out I like a very narrow selection of liquified things but maybe you can use some of these ideas and decide for yourself!
Note: The first three smoothies are designed for 1 large serving, the last two smoothie recipes give you two servings (because otherwise your ratio would be all off, you'd be saving half an apple for later… nobody wants that).
1. Classic tasty smoothie

1/2 cup frozen mixed berries
1/2 cup probiotic yogurt
Handful more of blackberries (not frozen)
1 banana peeled and sliced
1 splash of 1% milk to get the blender moving happily
Most agreeable smoothie. Miklos and I both enjoy this one, though he could do without the banana. It's fruity and bright — a crowd pleaser for flavour with some nutrition too. You can add a handful of baby spinach to this too and you'll never taste it. Just blend well.
2. Strawberry banana berry with oatmeal
1/2 cup probiotic yogurt
2 handfuls baby spinach
Splash of 1% milk
2 handfuls frozen strawberries
1 handful blackberries
1 banana peeled and sliced
1/2 cup dry oatmeal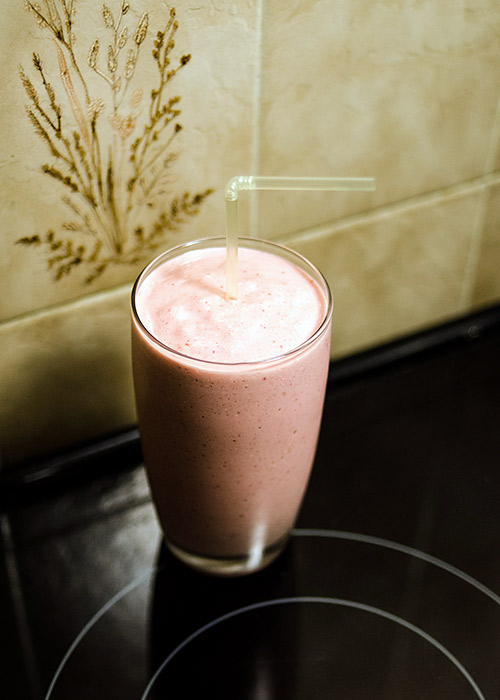 Again, you don't taste the spinach, and you get a creamy strawberry banana smoothie with the texture of oatmeal. It's a win!  I think my skin is beginning to react badly to strawberries lately though (i.e. turns red as a strawberry the day after consuming them), so I might stay off them a while.
3. Oatmeal thickie
1/2 cup probiotic yogurt
Splash of 1% milk
2 handfuls of baby spinach
1 banana peeled and sliced
1 avocado
1 handful of blackberries
1/2 cup oatmeal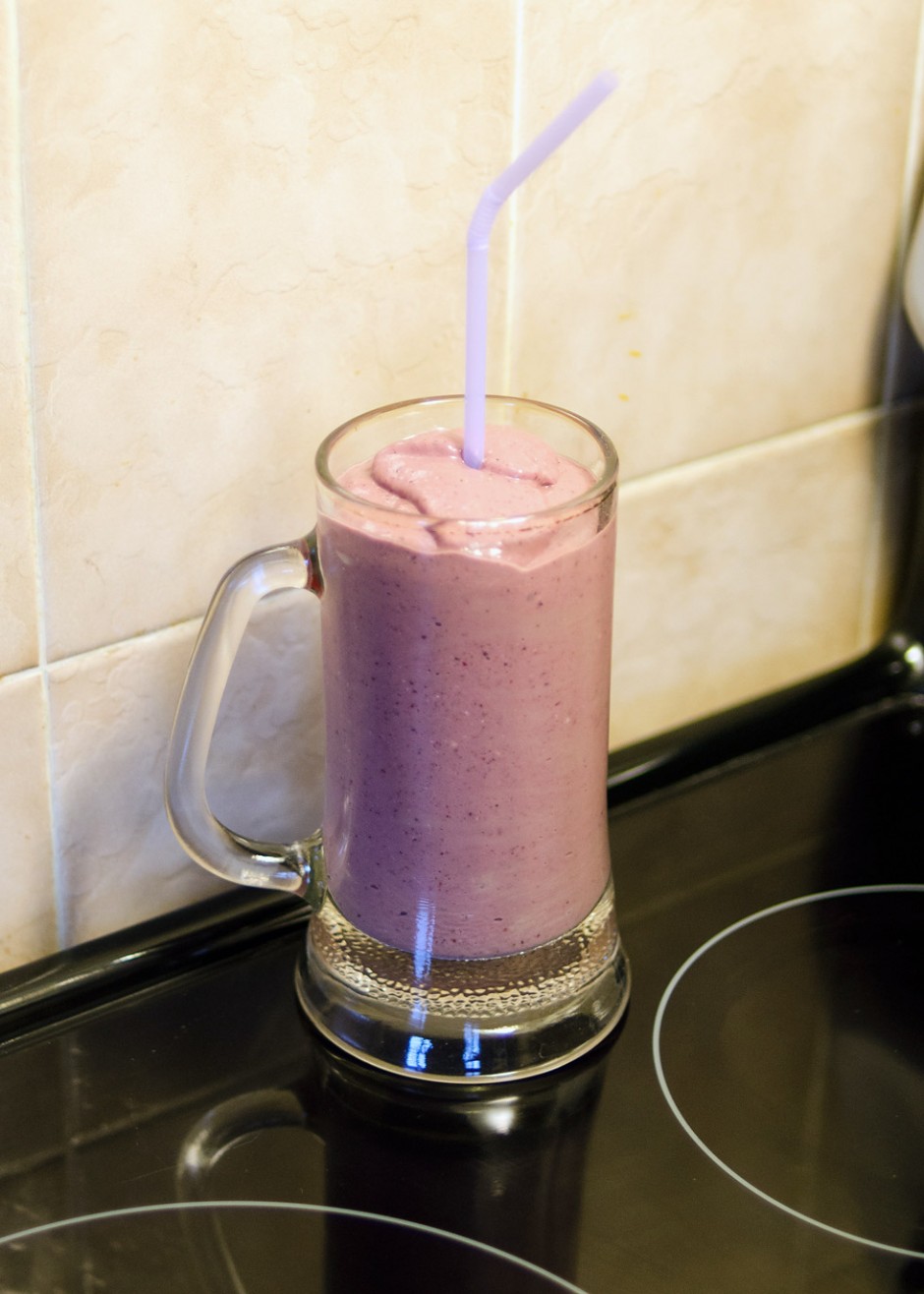 Oatmeal improves every smoothie. Miklos doesn't particularly like avocados or bananas in his smoothie, but with the oatmeal, he seems to like them better and so do I. It makes this mixture tastier, and more of a fun snack than a healthy drink, but still has the nutrients needed so that I don't wake up screaming from a Charlie horse in the morning.
4. Green smoothie dark
2 cups water
2 cups baby spinach
Slices of 1 apple
1 cup mixed berries
1/3 teaspoon of cinnamon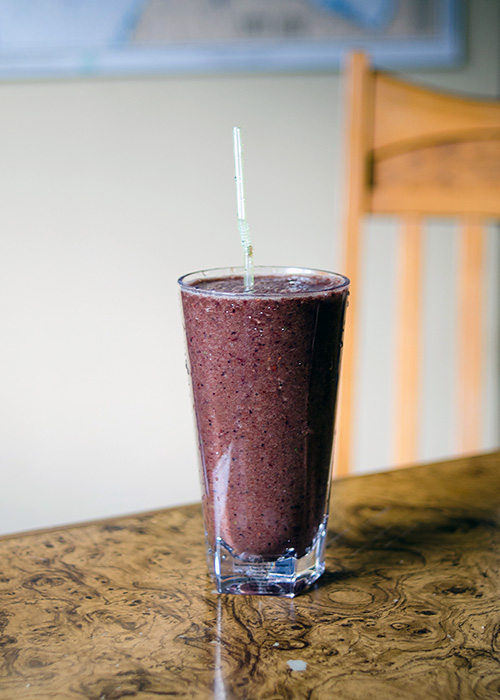 This is gross. I had chunks of apple going into my straw (which a friend told me could be improved upon by using apple sauce). Texture issues.  And I know 'green smoothie' simply means that it involves leafy greens, but I feel like a green smoothie should be at least reminiscent of that colour. So yeah, don't try this one unless you like your drinks gross.
5. Green smoothie light
2 cups coconut water
2 cups baby spinach
1 frozen banana (peeled and halved before freezing)
1 avocado
1/3 teaspoon cinnamon
I want to barf. This is the grossest thing ever. Coconut water smells like rotten baby spinach, and when your spinach expires tomorrow, this puts the idea in your head that your spinach is spoiled too. I know coconut water is supposed to be good for you. It is gross. This smoothie looks wonderful, and maybe if you feel the need to vomit today, this is right up your alley. But it's bad. I have been nursing this one for 2 hours now. I can't do it. It makes me wish I never tried smoothies.
So there you have it. My filler review of a few of the smoothies I have made lately.

Conclusions:
Mixed berry and yogurt = always good.
Oatmeal = excellent texture and taste improvement.
Baby spinach = you can't even taste it and it's good for you, so why not add it to all of them?
Green smoothies in general = ew.
Actual green coloured smoothie = vomit.
Coconut water = vomit inducer.
What are your favourite smoothie recipes? Leave a comment.