Over the holidays, I learned how much I hate old sewing machines. (How are our grandmothers still so nice, and not crazy maniacs after dealing with a lifetime of those?) We got a new one after Christmas and, man, was it ever a great investment. I'm so excited to get working on new projects with it. I will write more about the machine itself later because it deserves a brag for such a great price. What an improvement.
It was intimidating though for a few days. I wasn't sure what I'd like to try to do with it first, for fear that even this user-friendly machine would trip me up and make me realize I suck at sewing. Finally, I found some ideas on Pinterest for different purses I'd like to make, and decided my first experiment with the new machine would be to sew a cute little clutch.
Here's what I came up with:
Please ignore any loose threads.  My scissors are dull and I'm coughing all over, so I probably shouldn't be sharpening things at the moment.
It took a bit longer than expected because I changed my mind a lot and I also got sick (again!) a day or two after I started. I wasn't using a pattern, so I figured any tutorial-style pictures I might take would just be confusing later. Once I get a routine down, I will definitely post some patterns/tutorials.
Here are a few more shots of the back, the inside, and the finished product.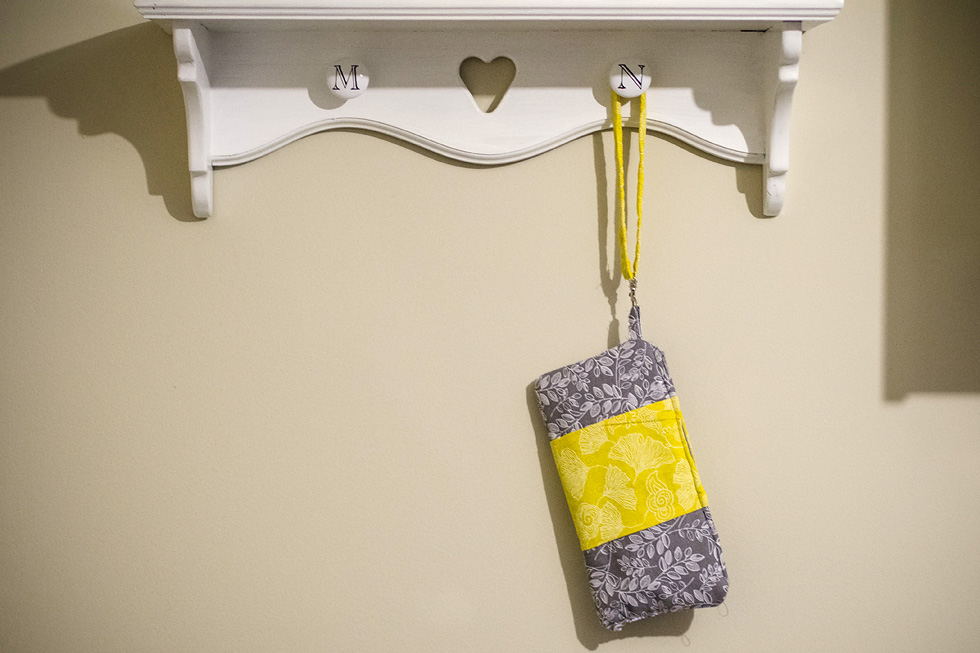 It's not perfect, but considering it's my first try and the last half of it was even more improv than the first half (I screwed up and had to monkey around to figure out how to finish it), I think it ended up looking pretty decent. Wish the yellows would have lined up back and front, but lining up is for second tries.
And hey! I sewed a zipper onto something for the first time ever, and it works.
Now, to use someone else's work as a guideline and actually try to attempt a sensibly-made purse!