Staying true to the baby theme today, I decided to throw up (heh) this quick and simple tutorial. It uses upcycled materials and becomes something you'll definitely use for your little one.
Got old shirts or towels? Great! Got a sewing machine? Good. If not, you can always hand sew. I used old tea towels which tend to fray, so hand-sewing would've taken a century, plus I suck at hand-sewing so I like the finishing better with a machine.
Here's how you can make your own burp cloths!
Materials: 
Old fabric you're not using for anything else — think cotton t-shirts, tea towels, anything!
A printed material for the cute front part (again, a t-shirt with a graphic on it, or even just a printed old woven dress shirt)
Scissors/rotary cutter and cutting mat
Ruler
Iron
Sewing machine or awesome hand-sewing skills — and thread!
How to make your own burp cloths:
Collect your materials.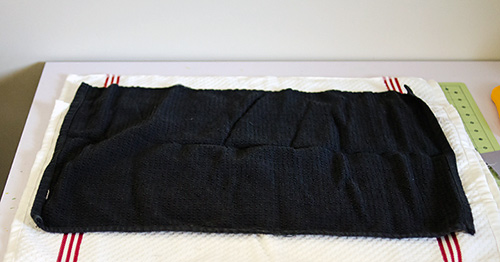 Line up two pre-washed, dried and pressed fabrics (cute print and tea towel for example), facing the 'right' sides together.  Use a rotary cutter and ruler to cut to same dimensions. Rectangle is going to work well, but you could also round the edges if you're fancy.
I cut mine to about 8″x19″ but this isn't written in stone. Whichever dimensions you choose, keep in mind your finished product will be slightly smaller.
Pin the edges of the two faced-together fabrics, then sew along the edges leaving a 2-inch gap for turning inside out later on.
If you're using terry cloth (towels), they fray like crazy so you'll want to zig-zag stitch along the edges or use a serger if you have one.
Using the 2-inch gap you left, turn the material inside out. Roll out the seams smooth (especially the corners) to remove any bulkiness.
Press (iron) the cloth first so it looks nice and pretty, then topstitch anywhere from a 1/4″ to 1″ into the cloth to finish it off. Make sure you fold under the seams of that 2-inch gap and stitch over to close it. You could also use a decorative stitch here, but my logic is: It's going to get puked on. Don't overdo it.
Your result should look something like this: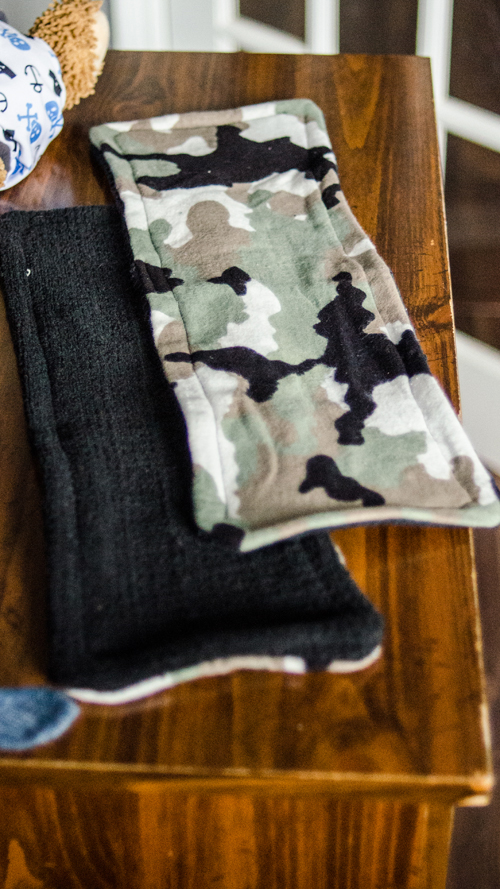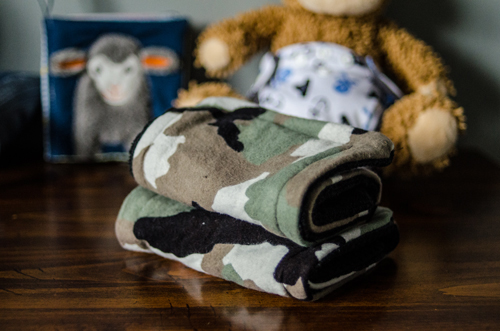 So easy! You did great.
And who's hanging out in the chic pirate bottoms behind the burp cloths there? Stay tuned.
What baby-related DIYs would you like to see next? Leave me a message in the comments, and show me any burp cloths you've made!
You might also like:
Share the post "DIY: How to make your own burp cloths — fast & very easy!"