Ever have this happen?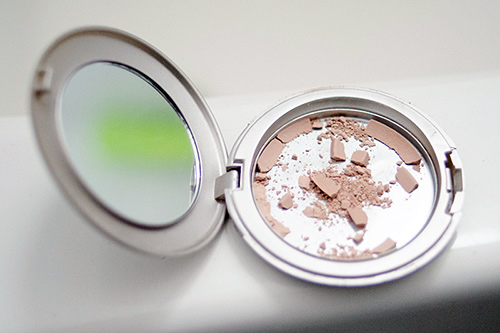 I did about two weeks ago. Whoops. Luckily this mattifying powder was on its way out and I already have a new one in the cabinet waiting… but since I found a quick fix on Pinterest a while ago for this, I decided to test it out.
Leave it open to air dry overnight. Did it work?
While it didn't work out exactly as planned, I did get a lot more use out of this compact — in fact, I'm still using it two weeks later. But maybe because of the low alcohol content used and/or because it was a mattifying powder and not a foundation and/or also because there was so little left, the powder did not fuse together solid again. It was also a lot squishier on the sponge at first as you can see. (This stuff is usually translucent. It still went on nicely by lightly patting the skin with it, but it was initially intimidating.)
It definitely did not wreck it, and I'm sure the alcohol zapped out any bacteria lingering. So I guess — all things considered — it worked!
Have you tried fixing a broken compact with this solution? How did it work for you?
You might also like: