Have you noticed my blogging absence lately? Has it made the heart grow fonder? Are you rolling your eyes? Stop doing that. They'll stick. As a parent I can say that now.
It turns out kids are life-altering in just about every way you can imagine! A baby is a bundle of joy, love and is a living, breathing bootcamp for patience and problem-solving skills.
Here are some game-changing baby items that have saved our sanity. I've used affiliate links here but I have not been paid to write any of these reviews. (I wish.) We have each of these items except the pillow that I found out about too late.
We were so, so lucky that my mom and dad thought the swing we initially said we liked was "chintzy" and they got us this bouncer instead.
Here's why it's great for us:
Very easy setup
Small, light and easy for a new mom to move it around
Seat unzips and is machine-washable; plush mobile toys machine washable too
You can incline it which is a wonder for babies with reflux who can't sleep lying flat
5 parent-like motions and 5 speeds
SO IMPORTANT: Built-in sounds like Ocean Wave and Car Ride for white noise with the swing function off or on — we use this during every nap. We have two large dogs and squeaky floors; this drowns them out whether he is in the MamaRoo or his crib in the nursery. The noise also helps lull him to sleep. You can even plug in your MP3 player!
For tiny babies, there's an insert you can get as well
Seven months in and this baby swing alternative has been used several times daily, either for bouncing in or for creating white noise. Weight limit is 25 lbs which is a while away but as is common with a lot of swings and bouncers, 4moms says that once independent sitting begins, the baby should no longer use the MamaRoo.
It is small enough that it doesn't take up much room at all in his little nursery and despite him sitting on his own we will definitely keep using it for noise at nap time for a while to come. It's been a game-changer for us and would likely be a wonderful and generous baby shower gift for any new parent, especially if baby has sleep or reflux issues.
2. My Pal Scout / Violet
John went into a 4 month old sleep regression at 3 months old. (So advanced! Haha.) It was — very mildly put — rough from late June until mid-August. We were getting 1.5 to 2 hours of sleep at a time.
A neighbour asked us how the baby was sleeping and we confessed: It was bad. Nothing helped. He even fought naps.
The neighbour told us she had a little plush dog in the crib who'd say "HI, [KIDDO'S NAME]. 10 MINUTES OF BEDTIME MUSIC!" and off to sleep her little lamb would go as it played lullabies softly into the night. It seemed too easy.
Well, it was easy. Scout SAVED us.
This plush puppy soothes the baby to sleep with either 2, 5 or 10 minutes of music that you program yourself from your computer. Leapfrog, you beautiful genius company!
Scout arrived within a couple of days of our ordering him. I programmed him to say John's name, chose some music from a vast library of lullabies and selected some favourite animals, foods, etc. It took about 10 minutes total and now this kid beams when he hears Scout say, "HI JOHNNY!"
More about Scout:
Easy setup
3 AA batteries
Plays soothing bedtime music for 2, 5 or 10 minutes which is usually long enough — he amazingly does not wake up again once the music finishes playing
Says baby's name in conversation as paws and tummy are pressed (Word to the wise: I have read that for more uncommon names, it may pronounce the name strangely)
Scout will talk about a good variety of moods and colours as well which helps baby as he or she learns to talk
Female Violet is available for babies into purple
Soft and cuddly when kiddo starts to hug plushies at night
Excellent value for the money. The functionaility you get for this price (usually around $25 give or take) is very impressive
It has cut a lot of stress and time out of putting our baby to bed. Now that he is a bit older, when he wakes up I'll often hear him playing with a talking Scout. It's really friggin' cute actually.
Breastfeeding or not, this pillow is a back-saver for mom and dad! I wish I had heard about it before we got my my nursing pillow by Jolly Jumper. The JJ one is still great but we'd gladly trade up for this one if we needed a pillow much longer. A woman I know who has it absolutely loves it, and I'm kind of jealous.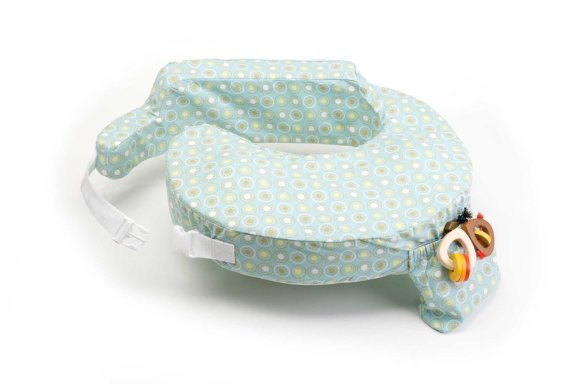 Why?
Has a pocket which is very handy for Kleenexes, pacifiers, burp cloths, etc.
Reputedly stays sturdy even for a second baby
Great back and wrist support for long feeding sessions, unlike most nursing pillows
No matter which pillow you opt for, they're great sitting support for baby on the floor as he grows. Mine likes to climb up and over it too. Pillows are great for play time.
With two pups that are sometimes impatient for their outside breaks, a carrier has been so essential. I used a Baby Bjorn a couple of times and felt like maybe I was crushing my poor baby boy's …stuff… the way he was hanging there. It also made my bad shoulder much worse in a short time, so we needed a new solution.
We read a lot of great things about Ergo carriers and decided on the Performance model because it is mesh-vented and moisture-wicking, which is good as Mom, Dad and Baby are all mini-furnaces.
What I love about this carrier:
Very comfortable design for mom (or dad!) and baby as weight is distributed across the body and doesn't pull heavily on shoulders. Great strap padding!
Baby's bum is supported and his legs are kept in froggy position to prevent hip problems
Easy to put on and take off; has instructional videos
Your arms are miraculously freed which makes cleaning, shopping and just about everything easier
Great for hiking with its vented sides, pocket, and hood that is easy folded out for rain, wind or on very bright days
Baby can be carried on your front, and eventually also your back or hip
Most importantly: Baby loves it
There are many benefits to baby-wearing and John gets a big smile on whenever we have him close to us as we walk around. Often as demonstrated below he gets sleepy — and sometimes he even sleeps — as we walk! It is magical.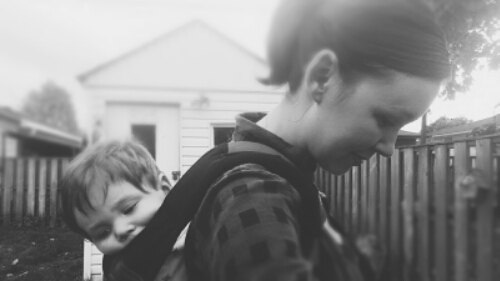 Whether you pick one up for your own baby or as a gift for a baby shower, the Ergo baby carrier is far and away one of the best investments you can make for parent and baby. I recommend it to anyone looking for a supportive and comfortable carrier.
5. Graco Pack N' Play Playard with Bassinet and Change Table
This one is a souped-up version of the playard we have for around the same price Miklos's parents paid. We kept ours set up in our room for the first few months and John slept in the bassinet until we were more comfortable putting him in his crib.
The bassinet has a very slight incline which was nice; we even tucked a couple of towels on the playard part under the bassinet for when John had reflux at night. It was a cozy little place for him to sleep and we felt at ease knowing he was right there and we could make sure he was still breathing.
Yes, we new parents are a paranoid bunch.
What I loved about ours + what's great about this tricked-out version:
Reversible wipe-down change table & machine-washable bassinet
Safe play area for older on-the-move babies
Wheels on the bottom make it easy to move around
Easy press-button to pack it up and easy to assemble, comes with a zip-up case
This newer one has a diaper stacker and a musical mobile for the same price! The diaper stacker alone would have helped so much, but we kept them in the pack N' play part, which was good too
We were really lucky to have received this gift. It saved a lot of anxiety having his bed in the room with us, along with an easy-to-clean change station with a click button-push and flipping of the bassinet.
I hope my recommendations can help some new moms, dads and babies to relax a bit and get some much deserved rest. If you liked my post, please Pin or share it!
Have you used any of these baby items? How did you like them?