Samsung releases the Galaxy S6 on April 10, 2015, comprised of metal, glass, non-removable battery and no expandable memory — offering instead impressive internal storage with 32, 64 and 128GB models.
Its release date makes this my perfect birthday phone, or so you'd think.
I'm just not sure.
I may have been extremely fortunate that my Galaxy S4 has lasted through so, so many terrible things.
This week, Johnny took his first steps (!!!!!!!) and then proceeded to drool all over my phone. I wiped it off and went on with my day, two hours later realizing the inside of my phone was saturated. (The battery had begun to die very rapidly so I popped it open and my jaw dropped in horror.) Into the air-tight rice Ziplock it went for 4 hours and, incredibly, everything was back to normal.
That makes two toilet dunks and a prolonged drool bath, and a happy, perfectly-functioning phone. (Thank you Superman.)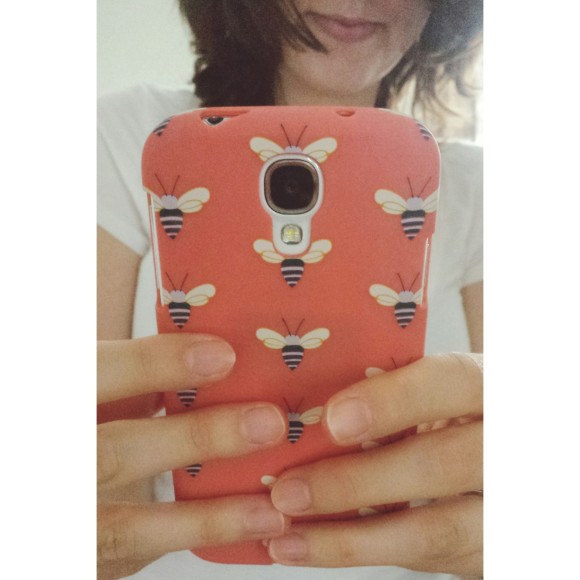 Ed. note: Droolfest could have been avoided if I were using my Otterbox with the hole-plugs and not my cute little bee Fossil case.
My Galaxy S4 has 16GB of internal storage, which with all the pics and videos of Johnny eventually required the addition of a 64GB MicroSD, found for around $42. I personally like MicroSDs as it makes for an even quicker transfer to my computer if I ever need it.
Anyway, the S4 remains a great phone two years in.
You can get the 8GB version of this phone at a bargain price of $286 (at time of writing), or one with 16GB for $477.
I'm not an iPhone person, nothing against anyone who is. My husband uses one for work and anytime he's had me use it (I am adamant about him not texting and driving), it just never felt as user-friendly and comfortable as any of my Android phones. It's all subjective.
Of course, the Samsung Galaxy S6 is Android, but it's very iPhone-esque, almost as if they're telling themselves that is what all people want.
Maybe?
The slightly higher-end look is nice, but the option of expandable storage and being able to pull the battery is incredibly helpful — especially when my phone seems to be a goldfish at heart.
I know too many people with iPhone issues to want anything built like one (again, my husband does iPhone support for a good number of people at his work on a regular basis).
So as hyped as I almost was at first, I'm not particularly looking forward to the Galaxy S6. The S4 is still wonderful nearly two years later, and durable! Very rice-friendly.
The only improvement needed, for me, is better image stabilization. And maybe some Velcro to attach it to my belt so that I don't accidentally drop it down a well anytime soon.
What are your thoughts on the Samsung Galaxy S6? Do you prefer the new look over the older models' practicality?