Remember this post? Well, someone I married arranged for a boatload of family to pitch in for me to get the Samsung Galaxy S6 for my birthday. It was released the very same day, so maybe that was a sign that it was meant to be. Yay!
The camera alone, it turns out, is worth the upgrade. It's fast and takes great, clear pictures, even in the dark.
As a clumsy person, it's fitting for me to share the coolest options for, uh… protection… if you've already invested in this beautiful device. I've done this before with the Samsung Galaxy S4, and with good cause — my phone-dropping expertise is second-to-none.
There's a significant lack of pretty in the current selection of cases, probably because the phone is so new. It's a shame to have to cover any of the sleek glass and metal design in the first place. Unfortunately, for some me, it's necessary.
My go-to, the Otterbox for the S6, had one bad review that put me off almost completely, and then I couldn't get an estimated shipping cost or a total because I live in Canada. Amazon.ca doesn't have many Otterboxes at all for this phone yet.
Plus, the Otterbox is ugly.
I dug deep into Amazon and eventually found some winners. Hopefully you like them!
NOTE: The following cases fit the Galaxy S6, not the Galaxy S6 Edge which has curved sides. There may/may not be similar cases to those listed for the Edge, cannot confirm but should be easy enough to check!
1. Toru Air Cushion case for Galaxy S6 – $9.99 CAD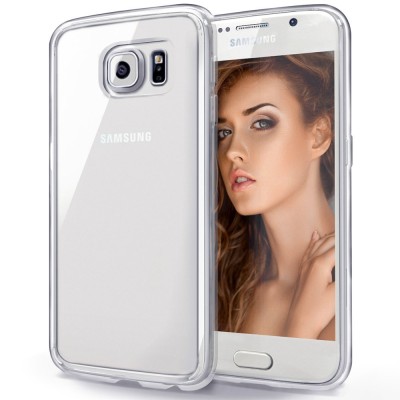 This is the first S6 case I purchased. It fits well, the buttons remain easy to press (my last Otterbox required a little extra effort to push with its bulkiness). It's slim and still showcases the design of the phone for the most part. The cutouts are perfect and do not obstruct any of the ports, speakers or the camera. The phone is also elevated enough in this case that if set it on its back on a flat surface, your camera is not touching anything.
It also has a few different colours, which I really like, and the rest is crystal clear. I'll point out that since I keep the phone in the back pocket of my jeans a lot (I know, I know), the pink sides on the one I bought have a slight tinge of blue forming… but it almost looks like a purple accent! So I don't mind. I also haven't managed to scratch this case up, despite it having been on many surfaces.
Bonus: It's inexpensive as heck, so if you ever do need a replacement and fast, this is a great option.
2. Caseology Waterfall Series case for S6 – $19.97 CAD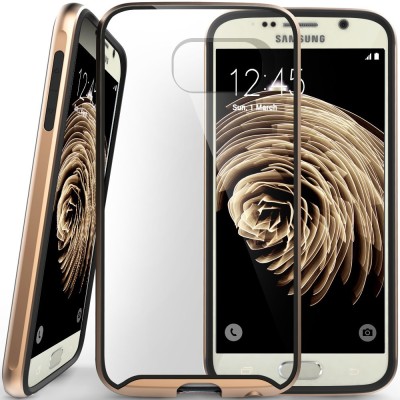 Same idea as the case offered above, except this one has a neat gold-coloured rim and some other funky colours. No reviews on it yet but it looks very sleek and I'll be trying this next.
Additionally, you can insert your own photos to customize the case. I suppose you could do this for the Toru as well.
3. Spigen Premium Bumper for S6 – $25.99 CAD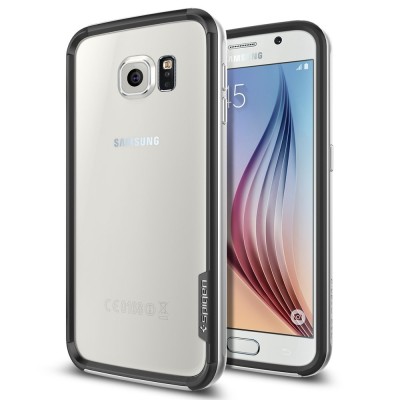 This would be that 'half' I mentioned in the title.
If you simply want a protective bumper with no back panel, this Spigen has an average 5 star rating while the phone continues to look fantastic and mostly uncovered.
4. Ringke Fusion Double Layer Armour case for S6 – varies from $9.99 to $17.99 CAD depending on colour/style
If you need more padding with a luxurious colour scheme, this Ringke case has mixed reviews but is a dual-layer case with dust caps for ports.
Clicking through the Ringke 'colour' options you will notice that not all the cases are designed the same — some in fact are clear cases that aren't dual-layer or dust-capped, which explains the variety in reviews.
And there you have it. Almost four gorgeous styles of cases for your new Samsung Galaxy S6! Which one of these would you pick?
Share the post "3 and a half slick, sleek cases to fit the Samsung Galaxy S6"