Before we sold our house (3 days after putting it up for sale!), we had a laundry list of things to do in order to appeal to a variety of potential buyers.
Selling your house ain't easy. Even if it sells fast. And I rarely say "ain't".
After deciding to sell, it took about a month and a half to get all these things done with our busy schedules, a toddler and two big dogs. (And cats, but they don't bother us until we want to sleep.)
One major change we had to make was in our basement. We'd had some damp issues from time to time, especially after heavy rains under one particular window. It turned out it had a crack running down it. It didn't look like a big crack, but we hired a guy my dad recommended who does renovations to patch it, and after a few rains, we knew it had worked well.
After the wall was back together and I painted it to match the room again, Miklos and his dad ripped out the carpet. Over the years it had gotten wet under the aforementioned window and our one cat (OK, maybe they are a problem sometimes) had pulled it up like a scratching post in places. Luckily we had kept our two bedroom doors downstairs closed at all times and the carpet in each of them was still good.
I debated with my own dad (who works with flooring) about laminate looking nicer than vinyl roll, but he kept pushing that laminate is not only expensive, but that moisture will ruin it. The crack was fixed at this point but with it being a basement, just in case, I agreed and took to the internet for the perfect solution.
To my surprise, I found rave reviews on vinyl plank. From water resistance to price to durability and even to design, I had to ask my dad why he hadn't given me this option. "You didn't want vinyl." *facepalm* Well, I guess.
I wish I had a "BEFORE" shot with the carpet, but all I have is this concrete floor until I dig up an old picture. My dad patched parts that needed it. Miklos and his dad did the vinyl plank. My dad and Miklos glued on vinyl baseboard. I'd like to point out that I swept and mopped the concrete floor 10x before we put the floor down to avoid any bumpiness thereafter. I also supervised our young boy while everyone worked, and made sure he didn't get into trouble and that I didn't lose my marbles. 😉 You're welcome, family.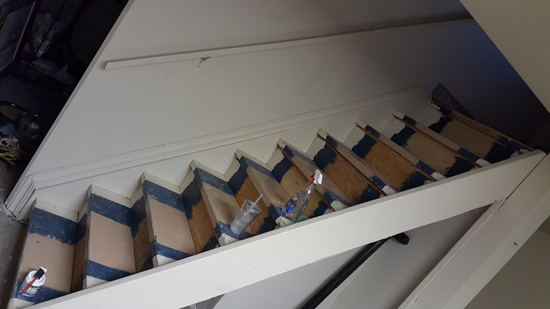 And after our house sold, I took these, which are clickable for a larger view. Still phone quality, please forgive.
Benefits of vinyl plank:
Price. This finish (and another dark one that I'd have preferred but Lowe's didn't have enough in stock) cost $0.99/sq. ft!
Durability. Cats, two 90 lbs dogs, toddlers, men in boots and potential buyers alike tested this floor. The worst offender was one potential buyer who wore shoes that scuffed. They were a bit tougher to de-scuff with a Swiffer mop than our laminate upstairs, because this vinyl plank has texture to mimic real wood, but they came off with some effort.
Quick, easy install. Sweep and mop until the floor is smooth and dry. Measure with a square tool, cut with X-acto knife, peel & stick onto floor. Finish with vinyl baseboard and vinyl stair-nosings, or whatever you prefer. Miklos and his dad finished installing the plank in about 4 hours for 450 sq. ft.
Water resistance. While not waterproof, it's much more resistant than laminate and won't be easily ruined.
Easy and cheap to replace if needed. Just pull up the offending plank, clean floor, then stick on new plank.
Nice design for a crazy price. It shined up very well (I will have to dig out my real camera pictures soon and replace these ones). It was smooth. There were few manufacturer defects, and where there were, you'd have to look closely to notice. It was even textured like wood! Some of our friends thought they were wood or laminate before we told them otherwise.
Quiet flooring. This is such a bonus for people with kids and pets. If you are unsure of getting rid of carpet because it absorbs sound, give vinyl plank serious consideration, especially in a basement. It doesn't squeak because it is vinyl and it just sticks to the ground. You can add warmth with a large area rug and plushy blankets if you really want later on, but this gave a fresh, clean look that didn't squeal and get tap-shoed around on like our laminate upstairs always did.
I think we made the right decision, and I'm convinced this rec-room is a big part of the reason our house sold so quickly. It also updated a floor that desperately needed it for well under what we had budgeted.
Please share your observations or even your own experiences in the comments! Would you consider using vinyl plank in your basement?