Hi again!
Sometimes I like something enough that I feel sharing a few tidbits about my experience with it will benefit people in similar situations. This is one of those times. Here's my review on this pack n play mattress that seemingly has magical powers over our nap-resisting son.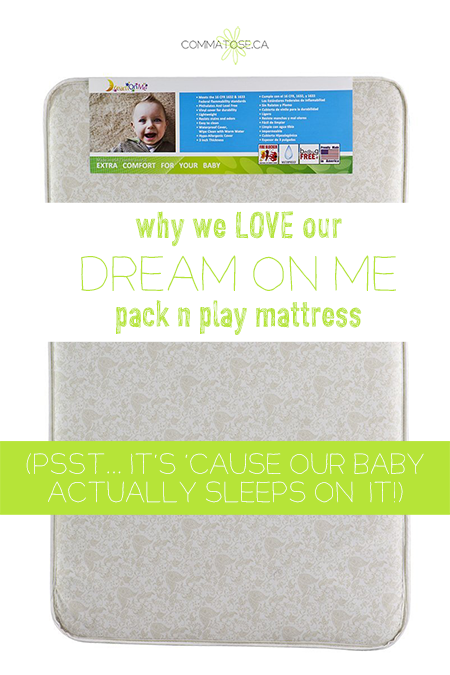 [This post contains affiliate links.] 
When John started sleeping over at his grandparents' place, they got a Graco Pack N Play. We had one already that we'd loved since he was first born but weren't ready to part with it yet. Seemed like the perfect option again, and they could keep theirs made up like a bed for him.
Ours came with a detachable soft-bottomed bassinet that flipped over to a waterproof side for diaper changing. We used the bassinet until we was ready to sleep in his crib, and then the Pack N Play became a regular playpen for Johnny. It's nicely padded and the colour is neutral so it suited our home well.
A while before his grandparents got the Pack N Play, we found the Dream on Me 3″ foam mattress. (There's also a Dream on Me mattress for the [smaller] Graco Pack N Play Square, if that's what you have instead.) We had wanted a good solution for when we went up north to the cottage, as the beds there are tough to squeeze two of us in, let alone the baby boy.
We had looked everywhere locally for playpen mattresses. Not even Walmart or Sears sold them. At the time, Target was still in Canada, and they didn't have anything either. We were overjoyed to find it on Amazon.ca with free shipping. It arrived very quickly in one piece, well-packaged, and it fit perfectly in our Graco.
Side note: They make Pack N Play sized crib sheets. I just used a 100% cotton crib sheet that had shrunk a little in the wash. It wasn't loose enough to make me worry, and I love to worry. If you want to err on the side of caution, Amazon has some highly reviewed sheets made specifically for playpens.
The true test was actually having him sleep somewhere he wasn't used to, on a much firmer mattress than he knew. Anxiety rode high in the days before our first trip north with the boy.
We put him down the first night at the cottage and … he slept. He even napped easily. The same kid who would fight me baby-tooth and nail twice a day at home suddenly allowed us to put him to bed, and actually stayed sound asleep. For some reason, even the clamour of our 2 large dogs' toenails on the floor in a small space didn't wake him.
It's why I'm writing this.
It is a struggle to put him down sometimes. When he naps, it's once for an hour/an hour and a half max — and it took a LONG time for us to get to this point. His naps used to last 35 minutes twice a day, after trying to put him down for more than an hour.
He doesn't want to go to bed, he thinks sleep is for chumps, and he wakes up pretty early at irregular times at home. (As babies often do — as did I once… sorry mom & dad.)
This mattress now resides at his grandparents', where he often sleeps in until 9 AM (!!) and asks to go to bed in his Pack N Play. Oh and his naps there? 2-3 hours.
I'm not sure if it's because it is so much firmer than his crib mattress (but not as hard as the Pack N Play bottom pad — thankfully), if it's cooler to rest on, or what the deal is.
Anyway, 10/10. Would recommend every time.
A few more points:
Waterproof
Wipes clean
Lightweight — easy to travel with
Complies with flammability standards
Built well –has lasted over a year without any wear
I felt the need to recommend it here because baby sleep issues are close to my heart.
If you do try it, please let me know what you think! I hope this mattress has the same magical ZZZ effect on your little one(s) that it has on ours. Sweet dreams, my parental friends.