Scrolling through Instagram lately, I've become fascinated with the world of quilting. It's such a creative and almost always one-of-a-kind sort of thing — for someone who sews and who has a multitude of scraps, the things others are able to do (with much more experience than I have) are wonderfully inspiring.
I'm starting out small, so I found this great tutorial for a flannel quilt from Cloud9 Fabrics and decided to run with it, using cotton front pieces for the quilt topper and a flannel plaid backing/accent. It was a quick project, which is great for impatient people like me, taking a bit longer than a full afternoon using pre-washed fabric.
(Note: I always pre-wash my fabrics in hypoallergenic detergent and tumble dry to prevent colour bleeding or 'shrinkage' in all the wrong places later on.)
I used the same cut dimensions but a 1/4″ seam allowance, so my 'crib sized' quilt is perhaps a couple inches or so longer than the one in the link given above. Oh well! The bigger the better in the case of plushy new quilts.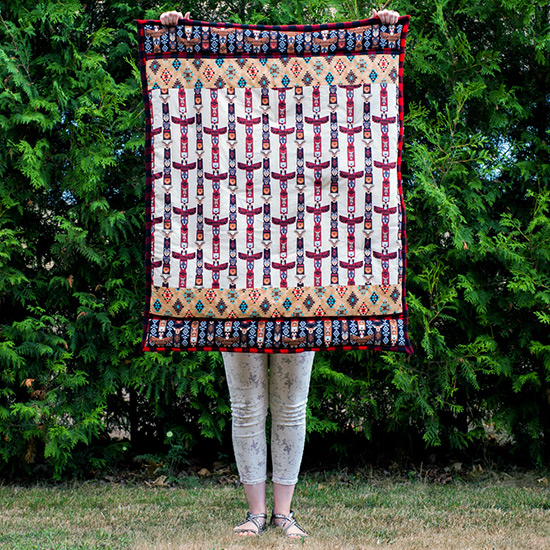 It was a pretty simple starter quilt and gave me some good practice as I gradually gear up to do more complicated things.  The only complaint I really have about this quilt is that I was hungry, so when I had to rip out a few stitches here and there, it was really frustrating. I'd probably use a longer topstitch length in the future (4 instead of 3, because 3 looked tiny, at least on the flannel).
I was actually planning on handstitching through the plaid strips on the front as suggested in the tutorial. Alas, I was missing my needle with a head big enough for the embroidery floss I wanted to use — and at this point, I really just wanted the thing finished. So I did what I could and machine stitched.
I'm calling this one a success, especially for a first try, and even though I cursed a lot while picking out stitches a few times, I will probably quilt again soon. 🙂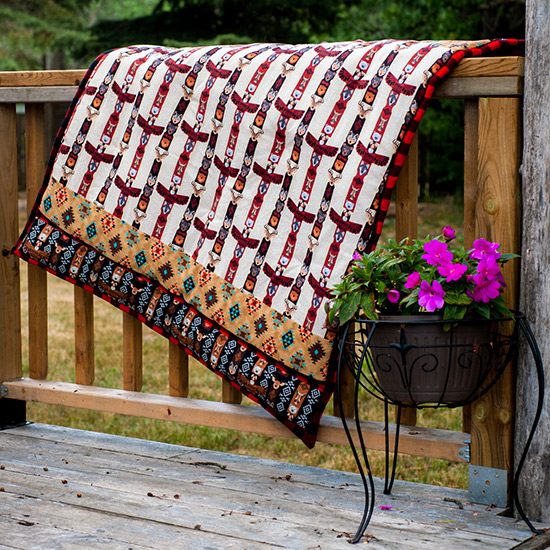 The totem poles fabric is one of my faves, and I love the coordinating tribal print. Extremely happy I eventually got to use them as planned in a quilt.
Total time for this project was under 7 hours, including small food breaks in between. Probably should have eaten more though — sweltering hot days make me extra hangry and far less productive. I highly recommend this Cloud9 tutorial for beginning quilters!
I'm on the fence about if I want to sell it or not. It may stay in our home (unused as I don't have a baby who needs a quilt) as a nostalgic piece for now.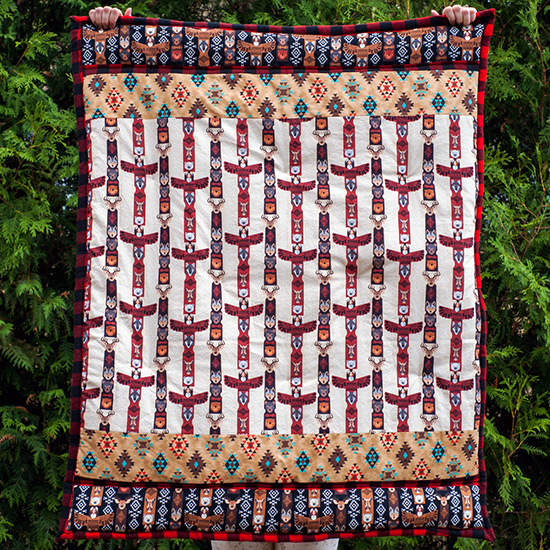 Thanks as always for stopping by! If you want to refer back to this post, here's the quicklink to Pin It.
Have an awesome day!