Hi there! Hope your summer's been beautiful.
When we went from suburban life to country living, it was something of a learning curve. Well water? Coyotes hunting across the street in the bush at night? Spiders the size of your big toe? Lots of adapting.
We also had challenges that could befuddle anyone without any electrical expertise whether they rent or own their home in the city or the country. One unique issue we had was in figuring how we would string up the Christmas lights. There is no power outlet outside our house except for in our shed, but we'd need to leave an ugly extension cord showing. Not the end of the world, but since we have one very sunny south-facing wall, I was inspired to look into solar powered options.
Full disclosure: This post contains affiliate links which if purchased, earn me a small commission at no additional cost to you. My recommendations are based on having bought the product, tried it and trusted the product and seller. No one has told me to write this — but I love recommending awesome things. These earnings help keep my blog afloat, so if you do purchase something, thank you!
I found these outdoor/indoor solar powered LED Christmas lights, and surprisingly with how affordable they were, they did not disappoint.
As shown, these solar powered LED Christmas lights come in either coloured or white LEDs. We got two strings of the coloured last September, and later this year a friend of mine got two of the white. Each string is 72 feet long.
Both styles of lights look wonderful. They're quite small yet incredibly bright and beautiful — and they're easy to set up with the included small solar panel on a stake you push into the ground. The best part is your power supply (AKA Mr. Sun) is FREE!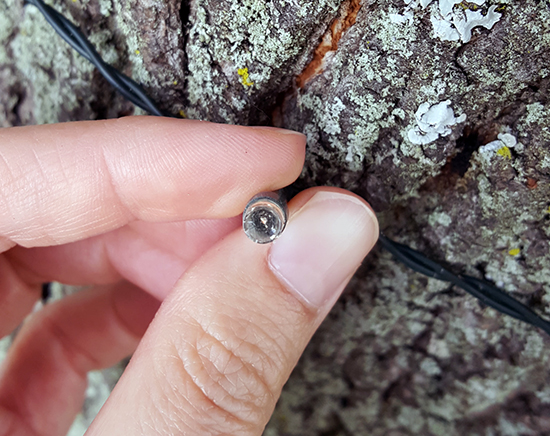 I have our coloured LED lights strung up on the trees in our front yard, and I even leave them up in the summer (switched 'OFF'), and they have survived the scorching heat wonderfully. The string and lights are so small that they blend in well with the tree trunk and literally one person has noticed them. She also bought some of her own thereafter. 🙂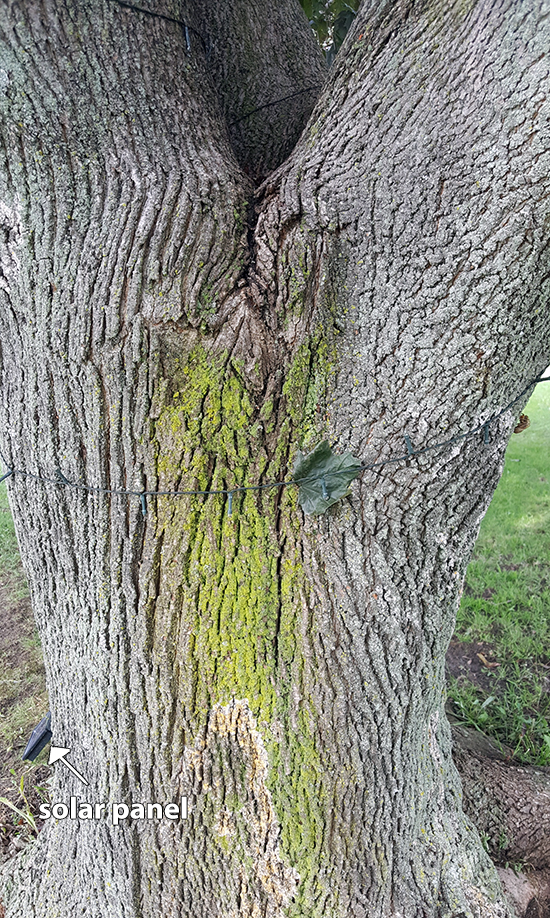 You don't need a super sunny yard, but more sun will sure give these lights some extra kick. The tree that's closer to our south-facing wall is often lit up with dancing lights until morning. The other tree's lights usually last about 4 to 6 hours — slightly longer after a sunny winter day.
I've found it's all in where you position your solar panel, which is small enough that it can be discretely positioned behind your tree so it isn't easily seen from the street.
These solar LED lights have 8 different modes as well. Whether you like them on steady, dancing, fading, or a combination, you have those options and more. The colours are a bit hard to see in the phone videos I took below, but they give an idea of some of the different modes!
[UPDATE — October 19, 2020: The same lights used to be sold by a brand called "LITOM" and are now Toodour, so I have updated links. My videos show the original lights from LITOM. My young son decided to whack the wire on one of them with a shovel, chopping one string in half (kids are fun), so now we have the Toodour kind instead.]
Just a heads up: I have noticed that these lights are difficult to get after October, so if you're in need of some, scoop 'em up while they last. This is why I'm posting something Christmas-related, now. I promise I don't do this often!
I'll be adding my own pictures and more close-up videos of these lights as seen at night time soon to give a better idea of the colours! 🙂
Thanks for stopping by today! If you have any questions at all about these lights, leave them in the comments! I'll be sure to answer honestly to the best of my ability. They also come in packs of 2 if you like a little extra bang for your buck!
Have you used solar Christmas lights before? What did you think?