It took about three years for Jane to become comfortable enough to allow me to pick her up. In fact, she is a bit of a mysery. Most days she hides out downstairs. We didn't discover there was a name for her breed (Nebelung) until last year when I answered trivia on FreeKibbleKat which sounded a lot like a description of our fluffball. We just keep finding things out about our old cat Jane.
Yesterday's discovery was something Miklos had noticed long ago but somehow forgot to mention.
Jane has horned paws. They're on every toe pad on both front paws. This link will explain more, and keep in mind, Jane is not a polydactyl (6-toed) cat, but just a regular old cat with what looks like nails growing in a mirror image out of her paw pads toward her other claws. Just weird. I'll get pictures and update this post later.
I don't know if they bother her, but they might, since she walks very lightly. Apparently you can clip them and they don't have a blood supply. As long as you clean them it should be fine. I might wait until Jane's a bit more sleepy to do that, however. I'm scared of having to wait another three years to get to pet her again.
Miklos says he noticed this a long time ago. Jane is almost 12, I have known her almost five years and have just learned this now. Proof positive that I'm not one of those canoodling-her-cats-all-day cat ladies. For now.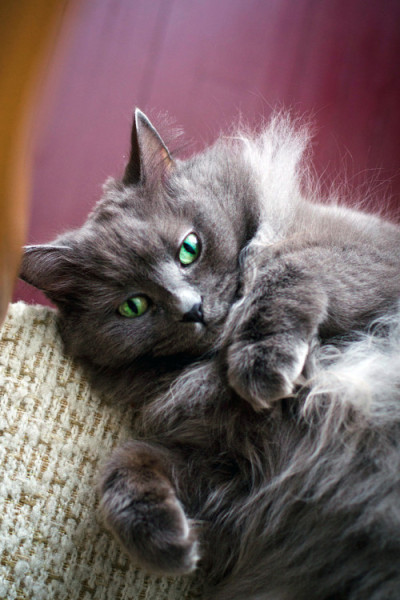 I'm wondering now how common this is. Does your cat have horned paws too?