Cats love to sleep.  One common bed you've probably seen at SPCAs and cat rescues is the cat hammock.  When I saw this cat hammock on Pinterest today, I thought "what a great idea for a cat hammock at home."
We had tried putting them in Casey's old crate before, but for some reason the cats didn't like the idea of walking into a metal cage.  Maybe I could've thought that one through better.
So I thought, good idea!  A cozy option they'll enjoy without paranoia I'll slam the door closed and ship them off somewhere.  We don't have a chair like the one on Pinterest, so the next best thing seemed to be underneath the dining room table, shoved into the back corner that no one sees.  The cats love hanging out under there like creeps.
Since I'm cheap, I decided to make my own from the crate cat hammock experiment gone wrong.
What I used:
A chair with supports under the legs, like the one shown below
A sheet, cut in half and folded
I took one half-sheet, folded, and began twisting and tying the four corners of it around the chair legs above the supports.
There was no method to tying as you can probably tell. Each sheet corner was either wrapped around or triple-tied around a leg above the support, and as long as the cat wouldn't be on the ground once in the hammock, I was satisfied.
The last bit of the sheet wouldn't stay tied to a leg, so I tied it around the adjacent supports instead.
When done, I took the other half-sheet, fluffed it up and used it as a cushion inside the hammock.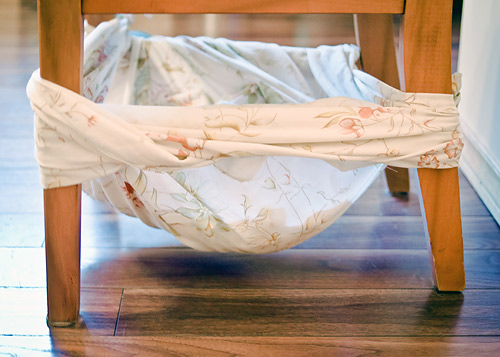 Mixi watched the undertaking of this project, which I think helped. She hopped into it soon after I put the chair back behind the table.  About an hour later, I found her in it again.  That's two times more than they ever used the crate cat hammock.  Success!
Check out this paparazzi shot I got of her:
As you can see, it doesn't need to be perfect, only functional (and out of the way so it's not a spectacle). Only cut my finger once on a staple sticking out from underneath the chair.  It was worth it!
Update! (December 5 2012) 
Look who I found in the hammock today: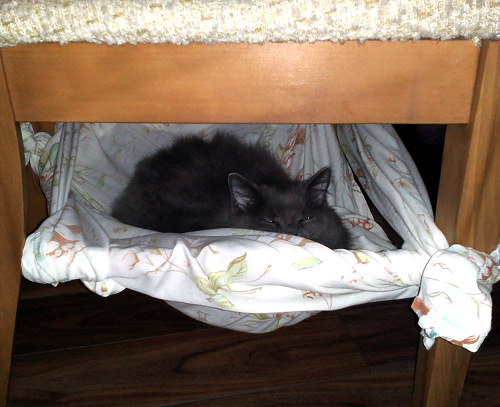 Two cats looking grumpy (due to using camera phone flash) in the new hammock = Cat hammock success!
One more update! (March 20 2013)
You may have already seen from newer entries that our new puppy Junior found his way in…
But here's a new face, leaving our lab Casey the only pet who hasn't found her way in yet (which might be a challenge, as she's almost 90 lbs):
Of course, if you like the idea of a hammock but don't have a sheet lying around, you can always buy something like this on Amazon for about $12.
Have you made one of these hammocks yourself yet? How do your pets like them?