Holy mother of Abel, is this soup good!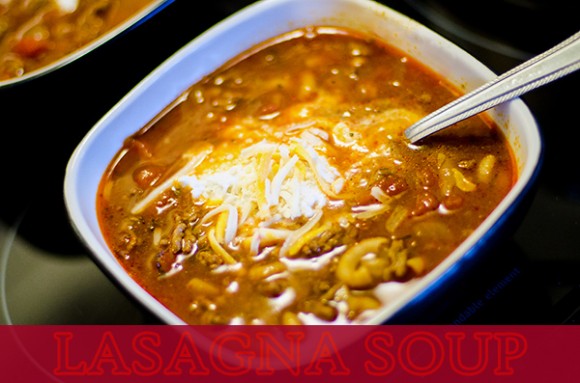 I happened to find this recipe on my Pinterest feed the other day (if you haven't already, you can follow me here). I expected good things, but I did not know just how good. I am lasagna obsessed — another of my favourites came from Pinterest a few months ago… I have my own take on it which maybe I'll write up one day — so I had to try this. Unfortunately when I was going to try it on Monday I realized the last of our ricotta had gone bad. That's OK. Glad I waited until we bought a fresh tub, because the ricotta makes this already crazy good soup extra delicious.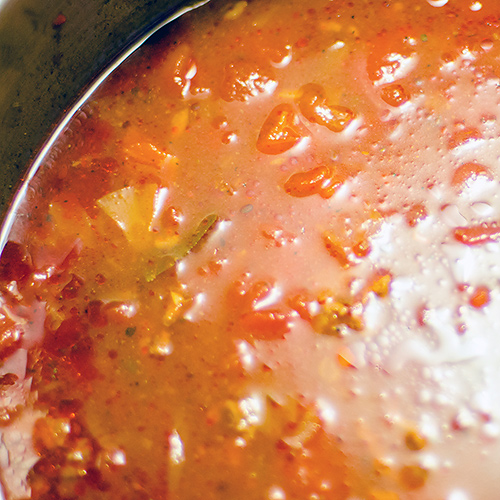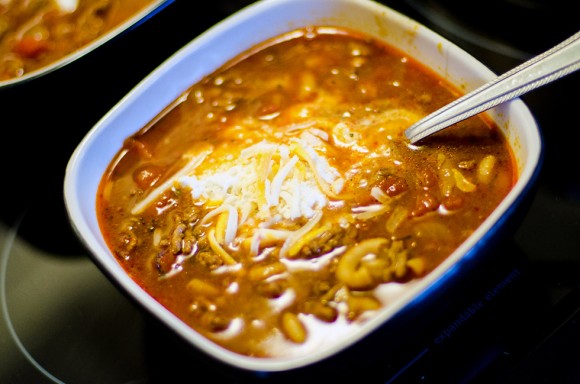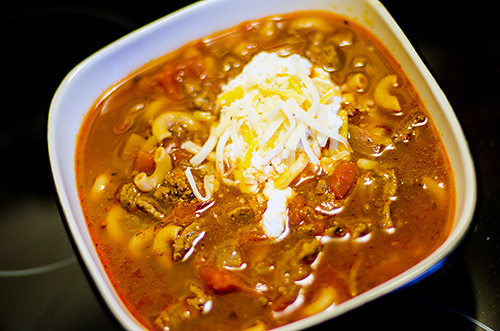 Total Time:
55 minutes (15 prep, 40 cooking)
Ingredients (makes 4-5 large servings):
1 cup elbow pasta
1 tablespoon olive oil (maybe a bit more)
1 pound extra lean/lean ground beef (your preference)
3 cloves garlic, minced
1 red onion, diced
2 teaspoons oregano
1/2 teaspoon crushed red pepper flakes
2 tablespoons tomato paste
6 cups chicken stock or chicken broth
1  can of diced tomatoes
2 bay leaves
Sea/table salt and ground black pepper, to taste
1 cup shredded mozzarella cheese (or Habanero if you like spice)
Handful of basil leaves, if you have them
Ricotta Mixture Ingredients:
250g Ricotta cheese
1/4 cup grated parmesan
Salt and pepper to taste
Instructions:
Mix ricotta, parmesan and salt and pepper into a small bowl. Set aside.
To reduce cleanup, use a large pot you'll be using for the soup as well. Boil some salted water and cook pasta according to package directions. Drain well, set aside.
While waiting for pasta, brown your ground beef in a non-stick skillet (or use a regular skillet with some olive oil), chopping beef as finely as you can with a wooden spoon. Once browned, drain off excess grease and set aside.
Using your pasta pot (currently empty) heat up your oil and toss in onions, garlic, oregano and hot pepper flakes. Soften for one minute, then add the beef and stir.
Stir in tomato paste until well blended.
Add chicken stock/broth, diced tomatoes, and bay leaves. Season with salt and pepper (you can add more later, once it's nice and hot for you to taste-test). Let soup come to a boil. Reduce heat and simmer for around 30 minutes, until slightly thickened.
Stir in pasta.
Add a dollop of ricotta mixture, your shredded cheese, and basil to each bowl served. Dive in, now!
** This recipe adapted from Damn Delicious's version
So what do you think? Try it out and let me know how happy your taste buds were.