After we brought the Christmas tree out a couple weeks ago, we needed to rearrange (and remove) some of the furniture. Wouldn't have to, really, but Junior's tendency to eat everything in sight means we still need to crate train him a while longer.
We have two of these simple LACK tables from Ikea. When the tree came back, we had to put one of them away, and replace our loveseat with an armchair we put away when Junior's crate came along. Needless to say, it wasn't going to be very nice to sit in the armchair out of reach of a tall glass of pregnant lady-satisfying water.
Miklos got sneaky, and started a little project. I like surprises, so I didn't ask what he was up to. I'm glad I didn't! This end table he made couldn't have turned out nicer!
Materials:
Measuring tape
Wood nails & hammer
Scrap plank of pine from Rona for less than $2
Some spare wood (one 2×2, one 1×4)
Leftover stain (if not leftover, a small can will run you around $6-$15 depending on brand and colour)
Krylon Low Odor Clear Finish $4.99 +tax
It began like this…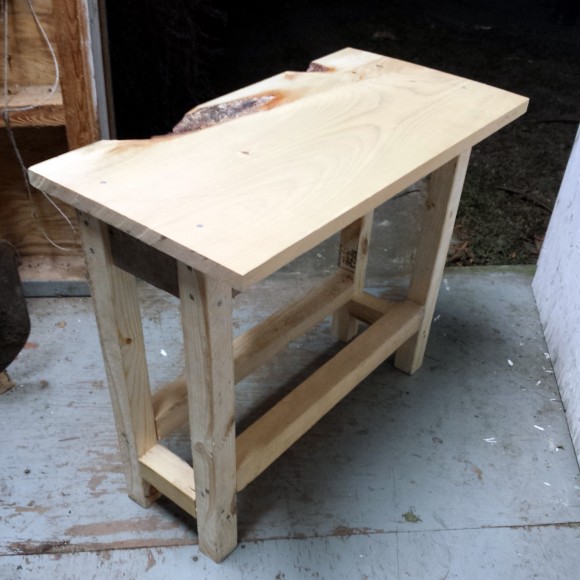 … and after some stain (left over from this project), he let it dry for a day or two, applied a thin clear coat, and it ended up like this!
It's sturdy as heaven, and it fits so nicely between the armchair and the Christmas tree — completely out of the way of dog wrestling matches.  He says he didn't measure anything on this table except for the length of the legs. That crazy guy…
I shined it up with some Pledge today. Looks great. I love having a piece that looks so natural in our living room. This guy rules.
What do you think of our new end table?