I thought to write this since as an animal-lover, finding a solution to our woof's problem lifted such a weight off my back. Hopefully it helps someone else's puppy out too.
A few weeks ago, Casey started limping. We first assumed it was a pulled muscle since she does this often up north when she runs around. She had been roughhousing (ruff-housing?) in the snow a lot with Junior.
After a few days it hadn't resolved itself though. I checked her paws quickly and they seemed a bit cracked. Of course! The freezing cold! Salt! Either of these! We bought some cream from PetSmart and when I went to apply it, I noticed a strange texture on her feet.
Poor dog.
I looked it up and (thankfully) this is actually a thing. It's called nasodigital hyperkeratosis. As I've discovered it happens when keratin cells go into overdrive (overweight and older dogs seem to be prone to it, as well as some specific breeds) and these hard 'feathers' sprout on the dog's paws, nose or both. I've also read that there is no cure.
Most info given on forums and sites say the vet will trim the feathers off for you, and even show you how to do it yourself. I came near my dog with some little scissors and she was nervous, so I didn't try it.
Anyway, the purchased solution I found: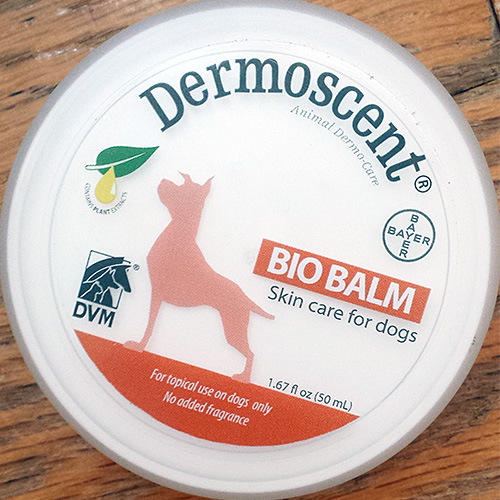 In the deepest, darkest and oldest corners of internet forums I found tips from owners, vets and groomers. Many advised Bag Balm, which is primarily used on cow udders, but many said that everything sticks to it afterward. I also didn't come across many results of its use, just recommendations to try it.
Only one person mentioned Bio Balm. She said the vet had recommended Vitamin A supplements, steroid shots and thyroid tests. She eventually tried Bio Balm (maybe the vet advised it, I can't remember) and she said the feathers began falling off her dog's paws immediately.
That was enough to convince me to try it.
You can find it here — Free shipping!
It is a bit pricey [UPDATE, August 2022: It is now something like 1/3 of the price it used to be!], but it only took about a week to arrive. The feathers do not 'fall off' (for Casey anyway), but! After one application, her paws are much softer and the keratin has either softened or disappeared from many areas. Most importantly, walking seems less painful for her.
I applied it a second time and she didn't even want to lick it off. She actually looked to enjoy the paw massage as I rubbed it into all her feathery nooks and crannies.
If I had a pumice stone handy to use with this stuff, I think the keratin would grind right off. Maybe I'll try that.
I update this post with the results of continued use. If you're desperately seeking out a solution you can give your puppy without having to bring her in for continued vet visits for trimming, I strongly recommend Bio Balm.
Somewhat related — our oldest cat, Jane, has a separate issue that seems related to viruses in cats. She's had it since long before I met her. It's weird that 2/5 of our animals have odd paws. Maybe if Jane ever lets us touch her paws we should try this stuff, providing it's safe for cats too. Too bad it says "For dogs only" on the package.
Have you ever had a dog with hyperkeratosis on the nose or paws? Did you find a solution? Let me know about your dog's experience in the comments — and if you try Bio Balm, please let me know how it worked for you.
UPDATE [July 29, 2015]:
This stuff softened the 'feathers' and made them stay closer to the paw — some of them fell off during paw massages, or I'd notice there were less during the following application. We used the balm for a couple of weeks nightly. This is a definite recommend. Casey no longer limps and hasn't for a few months.
Shortly after starting her application, I noticed Junior also had the feathers. His were really long in some spots. Although he doesn't like his feet touched, he let me apply the balm as long as I remained calm so he didn't get as nervous.
Doesn't it seem weird that two dogs of different breeds ended up with the exact same paw condition I've never seen in my lifetime of having animal friends? I'm convinced this has to do with environment or diet now.
I will update with pictures soon! Moving house and unpacking comes first unfortunately. Aw, poor bloggy. I still love you.
If anyone would like to share their results or even another treatment, please leave a comment. Happy doggy paws. 🙂
UPDATE [August 31, 2015]:
(Happy birthday Uncle Doug! I know you don't read my blog but you're my favourite Uncle Doug ever!)
I finally remembered to take some "After"s of Casey's paws today. They feel very smooth and much better.
There are bits that still look a bit 'feathery', but they feel smooth. On her front paw, there is a little crack but it doesn't feel hard/stiff the way the keratin feathers felt, so I think that's unrelated cracking.
The roughest parts I can find seem to be on the sides of her toe pads, and those are more like a callous. She doesn't limp or seem to be in pain and hasn't since treatment with Dermoscent. I'd call this one a success, and I still have more than half of the balm in that little 50mL tub in case we need it later.
Happy end of August to you!
Update: [December 17, 2017]:
We were discussing this at our family Christmas and one of my relatives recommended Pawtector from the Natural Dog Company. She said that within a month of daily use it made her boxer's paws smooth again. I have not personally tried it on our dogs yet, but I plan on trying it out if we have another flare-up in the future.
If you can't find Dermoscent Bio Balm, or if you want to try something different, Pawtector/Pawtection sounds like a great alternative.
Update [January 19, 2018]:
Just want to say, I love the discussion we've got going in the comments.
I recently found a site with a little more information on common causes of hyperkeratosis in dogs and cats. I tend to lean toward zinc deficiency for our dogs. Given our experiences, I feel that our vet would have picked up on immuno- issues by now. I've also read that zinc deficiency can be a winter issue for humans and animals. Thankfully this does not seem to be an issue this year, even given the extreme cold temperatures. *Fingers crossed!*
Yet another update [April 3, 2018]:
Does your dog have any dry spots, hot spots, dandruff, hair loss or even oily skin? I am looking into Dermoscent 6 Spot On Skin Care for Extra Large Dogs. It seems highly reviewed and I'm wondering if it could help a dry patch that our yellow lab Casey has had on her 'elbow' for a while. (The vet called it a pressure spot; for a while she was quite heavy.) Just thought I'd share it in case anyone else has tried it and can comment on it, or if you are looking to solve the same kinds of issues with your pupper. As kids, we had a wonderful dog with a large dry patch on her back where she had lost a lot of fur. Some reviewers say it helped their dog grow fur back, which makes me wish we had tried something like this for her.
Update
[August 4, 2022]
The Dermoscent Bio Balm is WAYYYYY cheaper now than it used to be. No time like now to give it a try!
That's all for now. If you've used any product that seems to help (or which didn't), please feel free to leave your results in the comments section! Wishing you and your dogs soft paws and happy skin always.