Pregnancy is a journey unlike any other. Things grow, stretch and otherwise evolve for a bunch of months in many previously unknown ways.
Despite buying new bras to accommodate my … bounty (ha ha), I've noticed that about halfway through my day, I am suffocating. The cups are great, no problem there. My band, however, goes from a pretty decent size in the morning to ribcage-strangulation-sized in the afternoon-to-evening. And so I came up with this cost-effective alternative to buying several sizes of bra:
You can buy bra extenders from Amazon, but I'm not willing to:
1) pay a lot of shipping for something I know I could be sent for a stamp; or
2) wait much longer. I can't breathe!
Another downfall of buying: I've read in some reviews that sometimes the hooks are spaced too close together or far apart. You may not know if they'll fit with your bra's hook/eye spacing until your package arrives. Not something I'm willing to wait to find out.
Thankfully I found two old bras with different hook/eye spacings that would fit with most of my newer bras nicely. They were worn out beyond repair and had holes in them. I'm actually not even sure why they hadn't hit the garbage can yet. Good thing they didn't — they have proved to be lung-savers.
This extension, for me, adds up to 3 inches to the band size. You'd think that's a lot, but it's really helped me to have some options.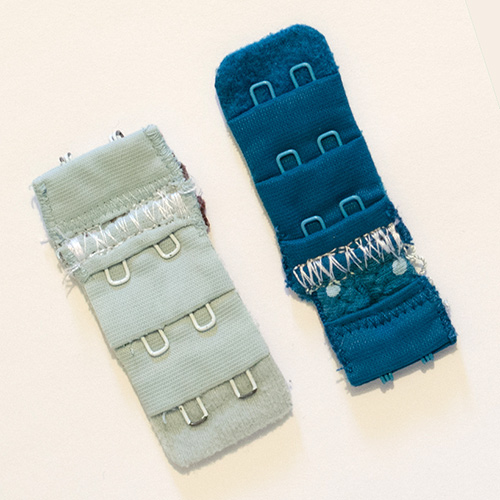 Materials:
Old bra(s) in colour(s) that will best match your new bras — or whatever you can find if you're not wearing sheer shirts
Rotary cutter OR scissors
Thread (use coordinating colours if you are particular/going to wear sheer shirts)
Sewing machine OR hands and a needle to sew with
Instructions:
IMPORTANT: Test to make sure the old bras you're using have hook/eyes that are spaced the same width as your new bras whose cups fit. Otherwise, this project will be a waste of a crappy old bra.
Note: The second extender's band was a bit wider than the hole made by cutting off the seam at the end of the 'eyes' piece. This is easily fixed. I didn't want to chop off any of the elastic that's at the top and bottom of the band, so I kind of just crammed it in. If it's really wide, you could fold/crease the middle of the band and use a quick stitch to make the band narrower. Think outside the box! Again, please disregard my awesome stitching. When there's no room to stick a pin in material, your consistency is bound to be affected.
So there you have it! I put my old crappy bras on the line — and online — to hopefully save someone's life or wallet from buying 7 different sized bras that will fit at any point during the day.
Hope this tutorial helped! What do you think?