So I'm on this everything-baby kick (I guess that would make sense since my life is about to go from everything us and dogs to most-everything baby) as you might have seen yesterday or the day before.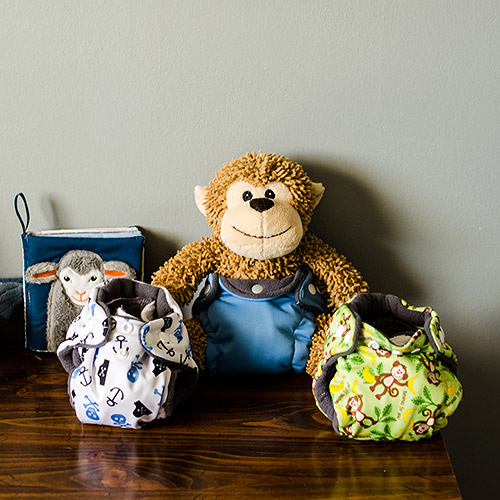 After I posted my cloth diaper result yesterday, a couple of people asked me some important questions which made me realize I should explain a few things I've learned.
On buying materials:
You won't find PUL, polyfleece, microfleece, organic cotton velour or hemp at Fabricland or a big box store. Fabricland has a lot of cute cotton prints, but! Cotton is absorbent. Not the kind of thing you want on the outside without a pee-proof layer before it. That's why you'll probably want polyfleece or PUL. [UPDATE, FEB 2, 2017: Fabricland does carry some PUL now, as well as some plastic snaps — not KAM]
We got our material from Lens Mills in Hamilton, and even their selection was kind of limited. If you live in Canada, Simplififabric has some very nice stuff. They can be pricey though, and they sell their material per half yard/half metre.
Microfleece is GOOD against baby's skin. Microfibre however is AWFUL. Will dry out your baby's skin. Don't do it! You can however use it inside a soaker/insert. [UPDATE, FEB 2, 2017: Microfleece was too warm for our sweaty baby boy though.]
You can use just about anything absorbent for the inner layers of your insert. Test for absorbency by using a tablespoon or two full of water (this is the typical amount of a pee for a baby, I've read). You'll find you usually need a few layers of most fabrics to make inserts.
KAM snaps and pliers are where it's at, but they are impossible to find locally. We had to order our pliers from eBay (took 2 weeks to get here from the US — don't order from China, it takes at least 2 months most times) and I found the snaps at Simplififabric (they had run out of the pliers) which came in about a week. I wouldn't advise buying from the KAM website if you're outside the US because the shipping prices are quite high.
Your elastic should be polybraid/polyester. As should your thread. Why? Remember how I said cotton is absorbent? Well, water (and pee) is a funny thing, in that it will travel through the holes you've sewn if those holes contain cotton thread. I don't know if they make cotton elastic, but that'd absorb too. Do not want.
You want size 11 ballpoint needles to sew. Why? They don't make giant holes when they poke the PUL and other fabrics. This is nice so that when you wash them, the holes should close right up over the thread. Stock up on these and polyester thread so you don't run out all the time like I do.
On the process of sewing cloth diapers:
Cut all diaper fabrics so that they stretch wing-to-wing, not top-to-bottom. Most (if not all) materials 'give' more one way or the other, so pull your fabric both ways before you cut out your pattern. [Added Mar 14 2014]
Find the 'right' sides of fabric by pulling two sides of it. The way the fabric rolls 'in' is the wrong side. The other side is the right side! Why this matters: I've found the right side of fabric often pulls in moisture better than the wrong side.
Sewing around elastic is among the more frustrating things you will do. Even when you do exactly what you're told — pulling it tight while stitching a casing around it — you can't see it while you're doing it. Last night, maybe because I was tired, I managed to sew over it twice, and I had to pull out all the stitches (tedious!) to start over. This is because stitching straight through an elastic will not allow it to stretch.
You want your PUL/outer layer to come up higher than your inner layer around the legs to prevent pee leaks. This took some strategy on my part, but through trial and error I've gotten better at it.
Again, patience is key. Follow instructions. Nothing will be perfect, especially the first few tries.
If you have the money and you're interested in cloth diapering, just buy the dang things. They can be around $25-$50 for the best-reviewed ones, but if it will make you happier, and especially if you're planning on having more than one kid, the money spent is not that much. Think of how much you'd spend on disposables for two or more kids if it seems expensive (and it is). [UPDATE FEB 2, 2017: Can confirm. Disposables are mega expensive.]
I'll add more to this post as I think of it. If you need more information — and the information about cloth diapering is endless as I've learned — here is the best resource I have found.
Have you given cloth diapering a try? What did you like or dislike about it? Let me know below!
You might also like: