I enjoy good homemade soup any time of year. I'm lucky enough to have in-laws who love to cook family lunch every Sunday, and most everyone who's tried it agrees, their chicken soup is top notch.
Come fall, I like to cook and enjoy my own soup-er hearty meals. Who doesn't? If I only had an enormous pot (what's a witch without a cauldron?), I could make a giant batch and freeze enough to have it once a week without all the choppy-choppy.
But the choppy-choppy is well worth it, fresh or not.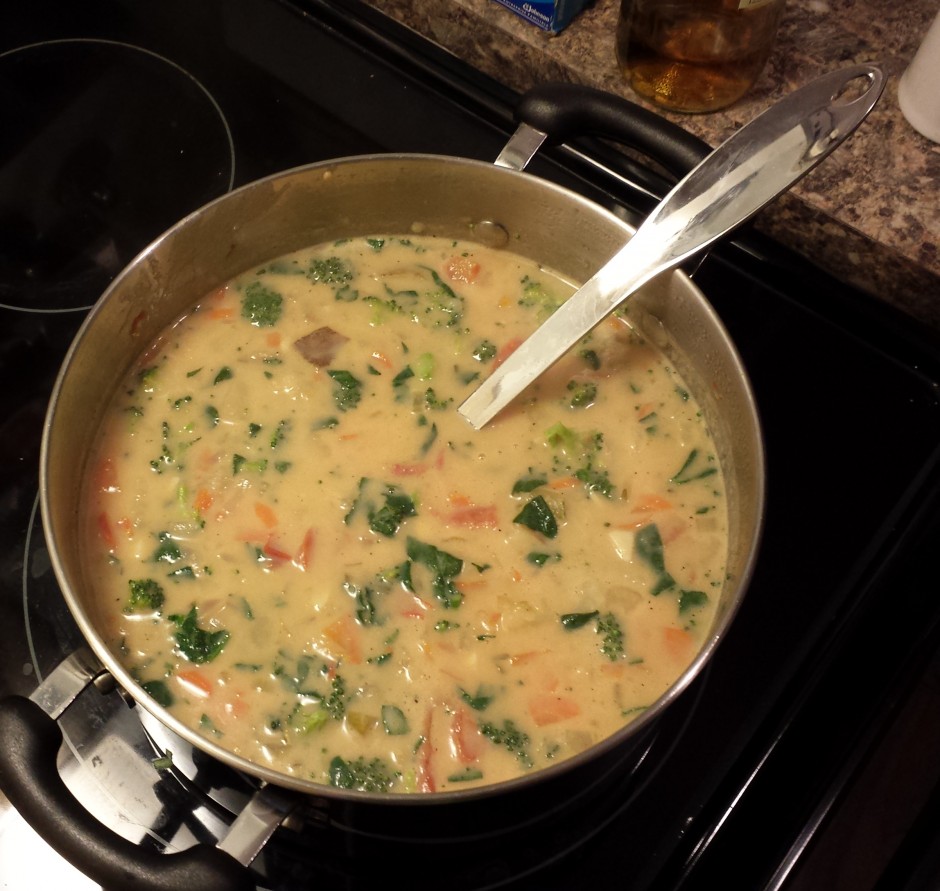 Homemade Cream of Broccoli (& Everything Else!)

1 tablespoon Becel margarine or butter
3 cloves garlic, minced
2 stalks of celery, chopped fine
2 carrots, finely diced
1 onion diced
3/4 teaspoon dried thyme
2 cans chicken broth or 2 tsp vegetable/chicken stock stirred into 2.5 cups boiled water
1 potato cut into small cubes
1 tomato, chopped
2 tablespoons tomato paste
3 tablespoons flour
3 cups milk
1 cup broccoli, chopped
some chopped spinach (optional)
sea salt and pepper to taste
Melt margarine over medium heat in a large pot.
Cook garlic, celery, onions, carrots and thyme until onions are softened (about 5 minutes).
Add broth/stock in boiled water and chopped potato. Bring to a boil.
Lower heat to medium and cook with lid on for about 8 minutes to cook potatoes, stirring often.
Add tomatoes and tomato paste and stir to mix well. Cook, covered, for 5 minutes.
Whisk flour into milk and stir gradually into the pot (make sure heat is at medium).
Add broccoli. Cook for 5 minutes until broccoli is just done.
Add spinach and cook until just wilted, stirring often.
Season with sea salt and pepper to taste. (You will probably not need much salt if you use prepared broth or dried broth cubes so taste it first).
Tips:
Sprinkle shredded cheddar cheese over soup to make it a cheesy broccoli soup.
Add hot pepper flakes if desired for some added spice.
If you love delicious soup, you will not be disappointed. In fact, forget disappointment. You will die happily if someone poisons this soup, which they won't and can't, since you're the one in the kitchen cooking and supervising.
The smell, the taste, and the look of this soup is to die for. You will keel over from how full you feel after devouring this delicious soup.
OK, I'll stop talking about death now. Keep your tastebuds piqued and your nostrils and eyes open.
Do you have a great homemade soup recipe to share in the comments? Do it!