Holy cow! Remember when I said we were going to do a DIY using an old dresser we found on the side of the road? No? Me neither, almost. Except that it's been in the basement all summer long (oops), staring and waiting for us to hop to it.
Hey, we got married this year. As it turns out, that kept us busy this spring.
Well, this past weekend we got to it. And as you can imagine from the blog title, we didn't just refinish it into a fresh new dresser.
We didn't have a cute bench in the house yet, so we thought, why not make one? And while we're at it, how about spending as little money as possible on it? We have lots of pallets (that we'll use in other projects as well, I'm sure) and luckily, Miklos's brother had a 2″x4″ or two to spare us.
What we bought:
Nails (a few bucks)
Knobs (approx. $10)
Panel ($8)
Krylon spray paint ($4.99 each x 4 = $19.96)
Sandpaper refill, but you might have that on hand. ($5)
Psst, if Amazon.com ships to you, here's a 6 pack of this paint for a great deal in case you want to spray paint the inside of the drawers or the back of the bench too!
I'll admit it took a bit more work than we had anticipated, but it wasn't an expensive project at all, and the result was definitely worth it.Here's a play-by-play on how we did it.
Working outside, we put a tarp under our work surface because who knows what kind of things our dogs would've been eating after all the deconstruction and sanding if we didn't. Having this to wrap around it also helped when it rained Saturday night.
We pulled out the drawers (some of which will be their own DIY project upcoming) and got to work.
Pulled out the drawers and stared at the dresser awhile. "Wait, how is this going to happen?"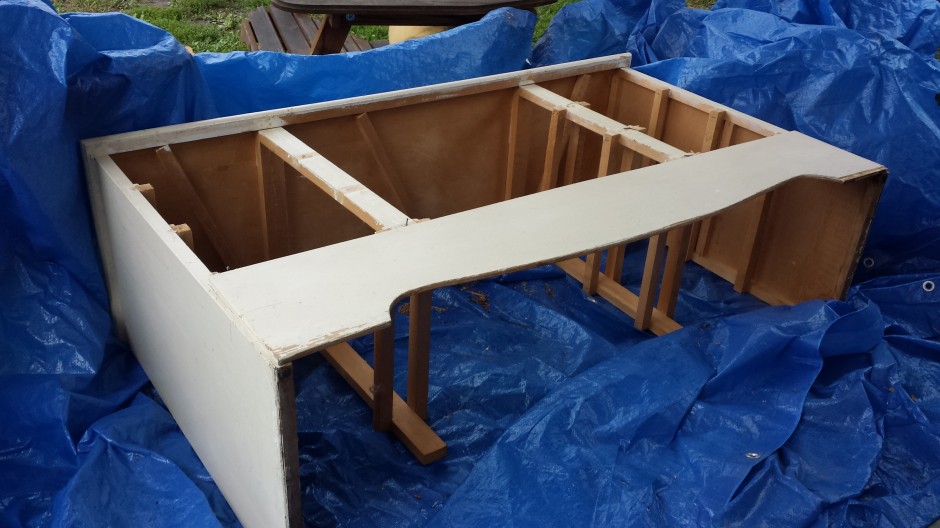 Using a small crowbar, we pried off the back of the dresser. It had water damage and was some flimsy kind of board from 1942 anyway.
Here's a better view of the dresser with the back off. We decided to cut off two layers of drawers so that it was low enough to sit on with a cushion without feeling like you're sitting on … well, an old dresser. Here, we had pried a few of the drawer slot holder thingies (actual technical term).
Note the piece of trim we pulled off the dresser that sat lengthwise between the drawers before (there were a few of these, we saved one). This was saved to sit below the drawers at the end to close the gap and add a little decorative finesse. YES, FINESSE.
Miklos used this fancy power tool because had I used it, it wasn't going to be pretty or straight or even a viable project anymore. He cut the top off the dresser, leaving the edges atop what would be the bench 'arms'.
The top of the dresser became the bench seat, of course. Waste not, want not.
What you can only kind of see here is that before nailing the bench into place, we did a couple things.
Pulled out the crappy old drawer holder ledges from 100 years ago.
Reinforced the length and width of the dresser with some 2″x4″s, so that it is sturdy enough to hold a couple of adults of average weight or more.
Nailed in two 6.5″ tall pieces in between where the drawers would be, otherwise we'd have two gaps between the drawers when we were done. We stood two of these up at the back as well, for extra sturdificiation.
Nailed in the drawer ledge things we still needed after some careful lining up along the new 2″x4″ frame.
Cut down and nailed in some old pallet planks to line the hollow inside of the 'arms'. I think we were able to keep all the nails below the bench surface, which was nice.
Bought a 48″x30″ panel from Rona for about $8 to use along the back. Not bad!
We moved the tarp and the dresser to the grass (so as not to ruin our gazebo any more than it already is) and propped our project on some of those old pallets I mentioned earlier.
We went over the surfaces of the old dresser and the drawers with a power sander (not pictured). At this time, a bee kept dive-bombing me, the sound of the sander reminiscent of its mother, I imagine. I trapped the bee in a jar, let him get a little dopey and set him free after.
Then it was time to paint!
We used Krylon Indoor/Outdoor spray paint in Blue Ocean Breeze. I was unsure of how even this paint would turn out, but I'm so glad we used it. With enough coats (and in just under an hour of coating and re-coating with this very quick-drying paint), it worked like a (happy) dream.
We used about 3.5 cans. (Again, 1 can = $4.99 at Canadian Tire.) I know this doesn't need to be said, but if you want smooth results, be sure to follow the instructions on the back of the can. Shake the can like crazy.
After a few coats of paint, it wasn't clear whether the un-primed panel (on the back) was going to turn out the way we wanted. However, we stayed vigilant to our benchy cause and kept on sprayin'.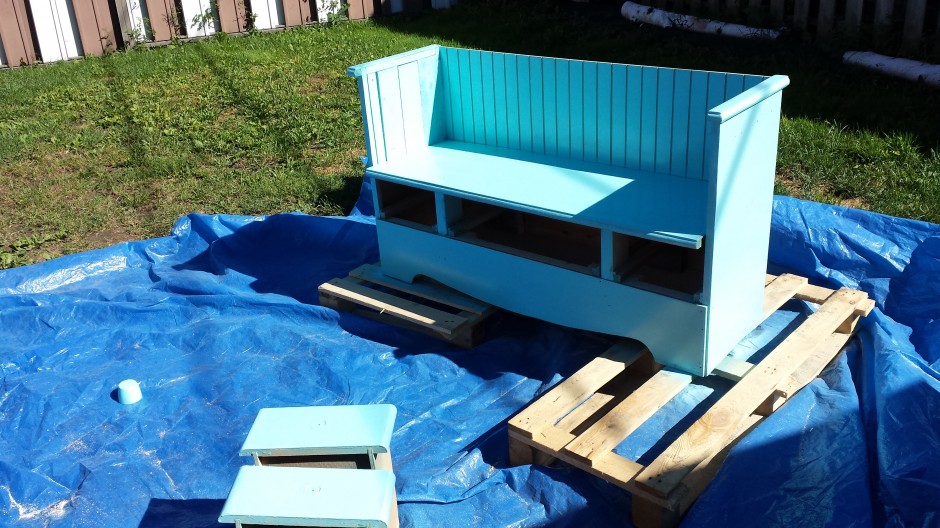 Here's the bench, nearly complete! It was looking a lot more even at this point, thank goodness.
Not shown: Remember the piece of trim under the drawers that I mentioned earlier? We sprayed that separately as we had kind of forgotten about needing it… We nailed it on afterward.
Above is a closer look at the new knobs we put on. (Image is clickable if you want a closer look!) These were about $3.59 each at Rona and they're a pewter colour, which I love amidst the blue ocean breeze. I also really like the pattern on them. They add a nice vintage touch, I think.
And voila! Here is is, the finished product!
From yucky old dresser to fancy new/antiquey-looking bench! It wasn't a quick project like we thought it might be, but we did it! And for around $50, I might add. That's my favourite! (I'm a bit frugal.)
I'd like to thank the neighbours for not killing us for making noise all weekend…
So what do you think? Please leave your thoughts, and discuss any other DIY projects you've been up to, in the comments!
[Ed. note: If you're in the States or if Amazon.com ships to you — not me, sadly — you can get a 6 pack of Blue Ocean Breeze spray paint for a great deal above.]