If you have access to a sewing machine, you can turn some spent old jeans into skinnies.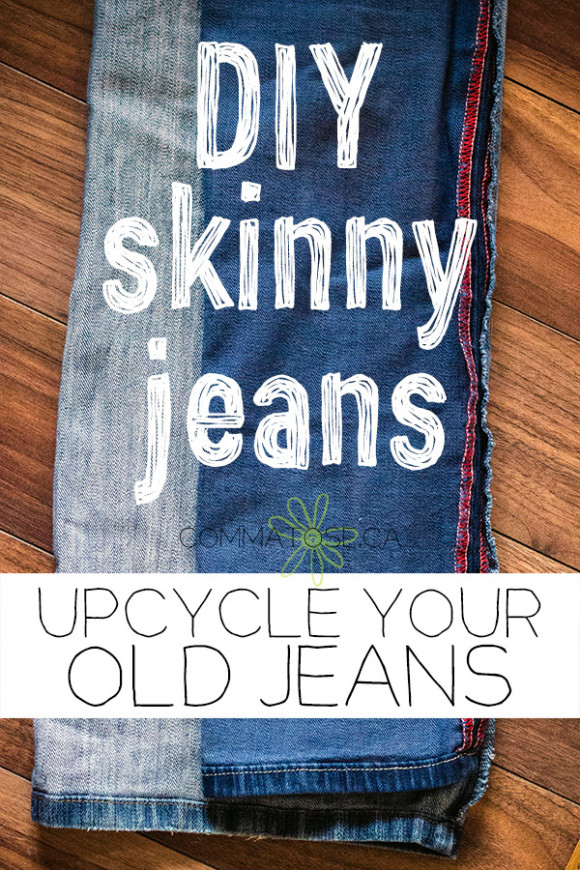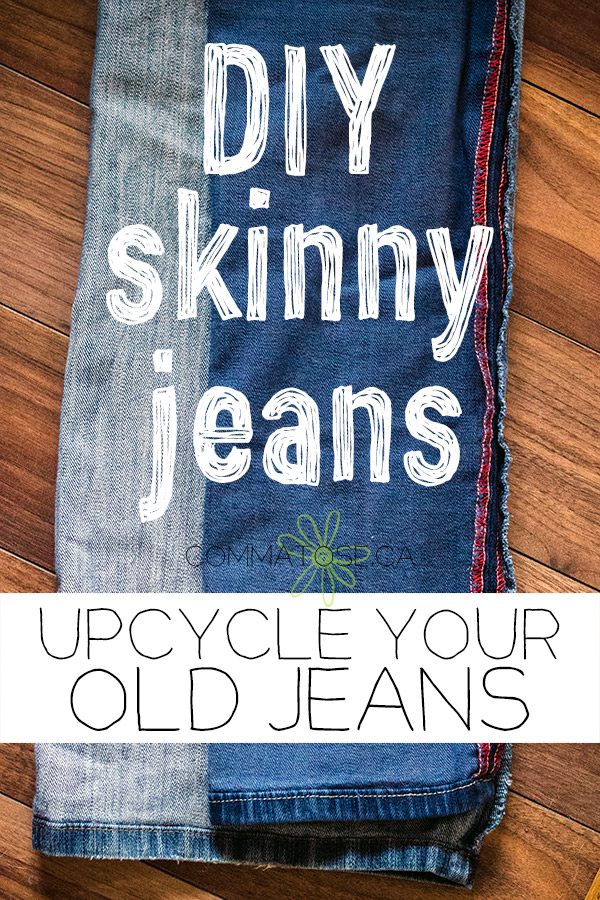 I mean, it'll probably turn out better if you have some sewing experience, but given that I did this as one of my second or third sewing experiments ever, I'm proof positive that it can be done.
Background: I don't mind jeans with a wider leg, but in the dead of winter, I love to wear my boots. Wider jeans + boots just don't work together very well. Bonus: These were maternity jeans. If I didn't like the way they turned out, I wouldn't need to deal with the result for much longer. (Spoiler alert: They turned out even better than I'd hoped!)
New maternity jeans can be expensive! Luckily, I already had this pair, so the next logical step was to make skinny jeans out of this pair.
Sorry, I did not take any pictures of the many "ARE YOU KIDDING ME" moments had during this experiment gone eventually right. Tip: If this is your first time sewing, go slowly and carefully over those folded-over hems at the cuffs and crotch. It will save you some agony. Also, use a sharp needle made for heavier material like denim. Google the right one for your machine.
So here's how I did it. And if you find this tutorial helpful and you decide to do it on your own, please leave a comment! I would love to see how yours turned out.
Just so ya know, this post contains affiliate links to products I've tried and now trust. Any purchase you make earns my site a small commission and adds nothing to your purchase price. It's win-win! Now let's get skinny-jeansing!
Materials:
Jeans
Safety pins
Pen/sewer's chalk
Sewing machine
Coordinating thread
Optional Materials:
Extra heavyweight needles like these (just in case, because you never know — always have these on hand)
Patience (I used very little of this, personally)
How to Make Skinny Jeans:
1. If you have a pair of skinny jeans you already love, use their shape as a template. Turn them inside out, and turn the pair you're about to sew inside out too. Line up both pairs along the double stitched (outer leg) side with your wider-legged pair on the bottom.
If you don't have a pair of skinnies you want to use as a template, don't worry! With your jeans turned inside out, skip to Step 4.
2. Trace a gradual line with a pen or chalk from outside your skinny jeans onto your soon-to-be-skinnies. I used pen. I am not very fancy.
Be sure to press both pairs of jeans down as you do this so they don't move out of alignment. You could also use little crafter's clips from the dollar store or even paper clips if you're gentle (they break easily for heavier material, for me anyway).
Important: Be slightly generous with tracing — give yourself a seam allowance.
Don't trace the line exactly on the edge of the skinny jeans, because it's better to have more material to work with than too little. If they're too big you can readjust later. If they're too small, you're usually out of luck.
3. Note: Use safety pins instead of straight pins for this step, unless you're feeling masochistic.
Pin vertically about 0.5 cm outside the pen/chalk line (on the inner thigh/calf side of the jeans). This will allow you to try the jeans on for fit before you start stitching.
The bit of space (i.e., 0.5 cm) away from the line will allow you to not stitch over the pins and break a dang needle.
4. Try them on. If they're too loose or too tight, adjust safety pins into a suitable, comfortable line close to your leg. I like my skinny jeans very skinny. These were stretchy pants, so I wasn't afraid of them being a bit closer-fitting. Use your better judgment depending on the stretchiness of your material.
5. Take jeans off (and replace them with others in case someone comes to the door). Using a straight stitch, sew inside the line of pins — near or on that pen line you drew earlier, if it's still valid.
If you need a lesson, it's best to have someone who knows what they're doing around you. I got a crash course from Miklos before I started to sew (that's funny for me to think about now) — his mom is a great seamstress, so he knew a thing or two from her.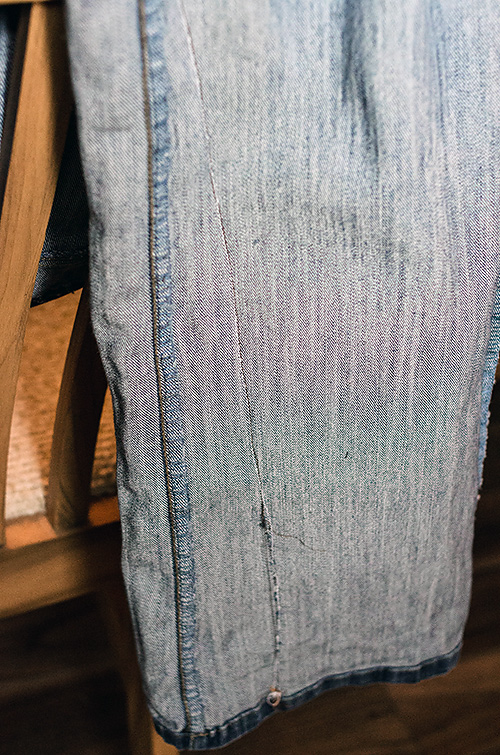 6. See this masterful line I stitched? Remove pins like I did in the above picture.
Cut off the excess (the inner flap of denim that your legs no longer go into), leaving about 1-2 cm excess for the next step. I left 2 cm because I was a newb and needed all the screw-up room I can get. No shame in that. Besides, turns out years later — finally knowing a bit more about what I'm doing — having extra room to start is better.

7. Now you're going to put these jeans under the needle for one final step.
Use a zig-zag or overlock stitch (or serger if available) right to the edge — all down that side you just cut off. (Observe the stitch in the flap pictured above, sewed professionally by the underpaid person who originally made these jeans.) The zig-zag, overlock or serger prevents fraying, and your pants have an extra line of reinforcement so you won't accidentally split them when you go out shopping.
8. Carefully, not cutting into any stitches, trim off any excess that may bother you later.

You're done! Try them on! I hope you love them like I loved mine.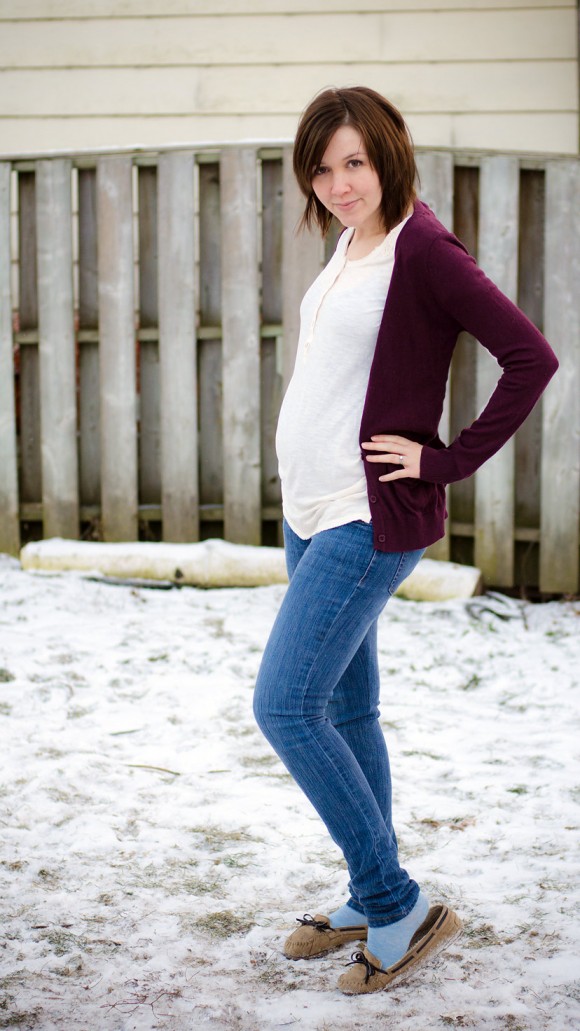 Yay! Boot-ready jeans, shown here without boots, just so you see that I really did make them into skinnies.
Note: If they're too loose, you can turn them inside-out again and stitch a little closer to where your leg will be. No need to reinforce-stitch again or cut anything else off, unless it's excessive.
I hope this photo-instructional was helpful. Feel free to Pin it using the buttons below if you want to use it later, or if you think it could benefit someone you know!
Be sure to check out some of my other DIYs:
Have you made regular old jeans into skinnies before? How'd it turn out? Let me know in the comments!